26 Sep

Review: Irix 150mm 1:1 Dragonfly Macro lens with Godox MF12
Introduction
I wanted to review the Irix 150mm Dragonfly f/2.8 1:1 macro lens for a while now, but it took me some time to get out my trusty DSLR FF setup again.
Meanwhile i also got an adapter to mount Canon EF lenses to my lighter OM System MFT setup, so i also tried the Irix with this one, too.
Since the Irix 150mm is offered in combination with a Godox MF12 flash kit by many webshops, i thought i would test the lens with this combination in particular.
You can read my review on the compact & innovative Godox MF12 macro flashes here.
They are small but powerful flashes and a great addition to every macro photography equipment.
Disclaimer:
As usual, while reviewing lenses, i focus on my personal approach – which means, that all of my opinions & verdicts should be taken with that in mind.
If a lens does not fit my personal style of shooting that does not mean it does not fit yours – it might be the perfect lens for you, while i cannot incorporate it into my workflow – and vice versa.
Irix
The motto of swiss (TH Swiss AG) and polish lens manufacturer Irix is "made by photographers for photographers".
Their goal is to combine classical, high quality design and maximum functionality.
The lenses are produced in South Korea and supposed to be solid, intuitive, accurate and handy.
We will particularly check for these characteristics for this review of course and see if the product can keep up with these strong promises and visions.
The Irix 150mm Macro lens
I have been looking for a longer focal length true macro lens and when i first saw the Irix 150mm 1:1 macro, i thought that might be a great addition to my setup.
Meanwhile i switched systems from DSLR full frame to OM System's Micro-four-thirds but i purchased the lens anyways.
With an adapter i was hoping to use it on the OM-D E-M1 III but since it was optimized for full frame i tested it mainly on the 5DII.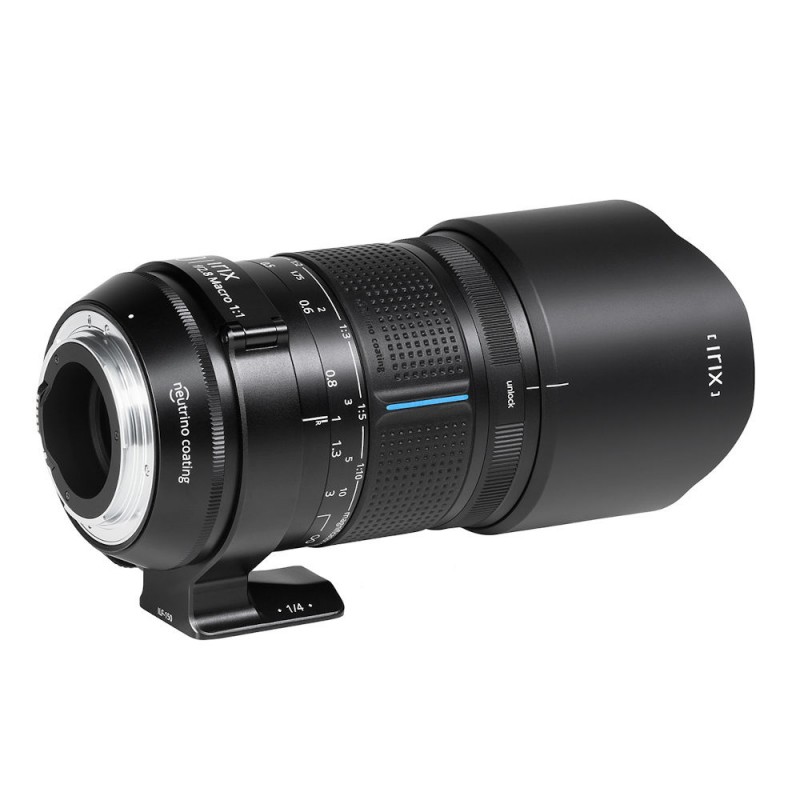 It is important to mention, that the Irix 150mm is a completely manual lens.
While a chip will communicate EXIF data to the camera and the aperture can be controlled, there is no auto-focus (AF) available.
11 aperture blades guarantee a wonderful bokeh and uses internal focusing to stay compact.
The lens has a magnification of 1:1 on full frame, which will appear like 1,5:1 on Nikon crop sensors and 1,6:1 on Canon crop sensors.
The magnification does not get increased actually, but the final image will be a crop of the full frame sensor image and hence appear magnified.
You can find all details about the lens on the Irix website here.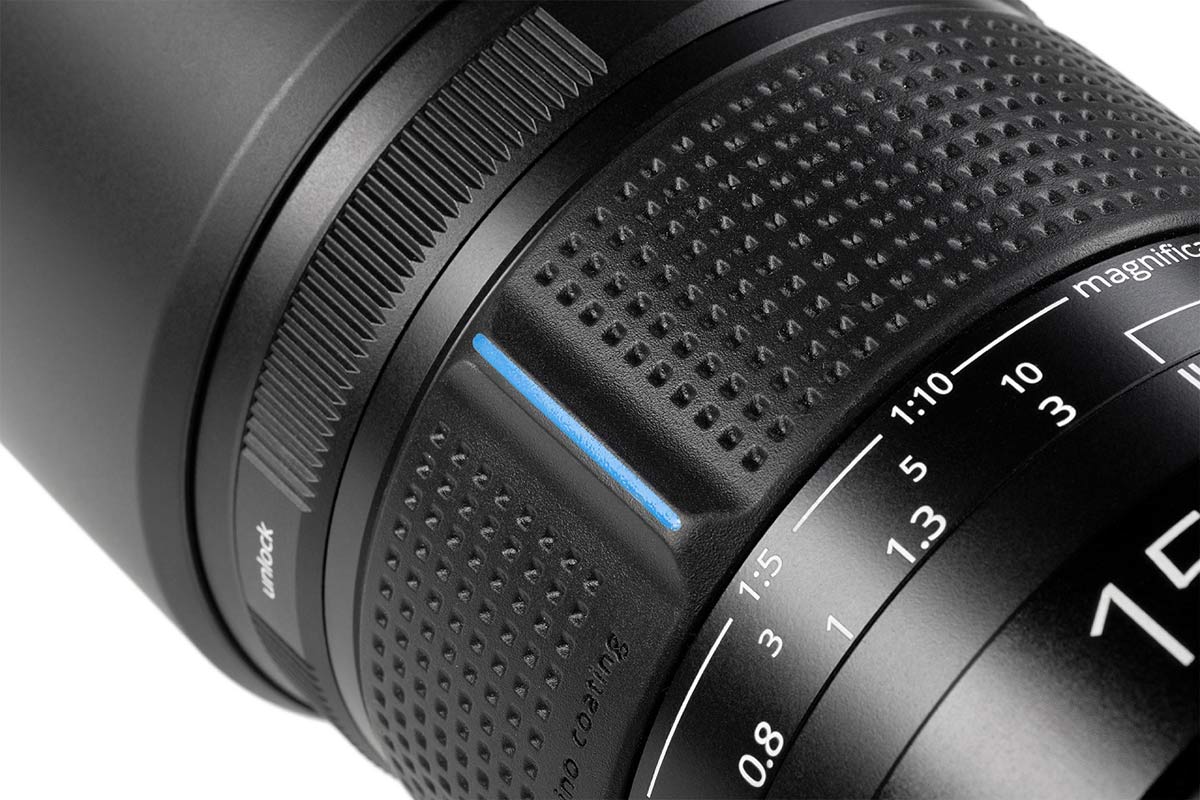 Build quality & product contents
The Irix 150mm is a heavy lens and feels great.
It is made from aluminum with an aluminum-magnesium casing/coating.
Its build quality is very good and it looks and feels like an absolute high-class product.
The Irix 150 mm f/2.8 Macro 1:1 is moisture sealed in five crucial areas (front element, focus lock ring, focusing ring, and the mount) so it might be used outdoor even in bad weather conditions.
Fun fact: the blue markings are filled with UV color.
The 150mm Dragonfly is being delivered with a lens hood, a tripod collar (Arca-Swiss) and a hard case included.
Its design is unique and very pleasing.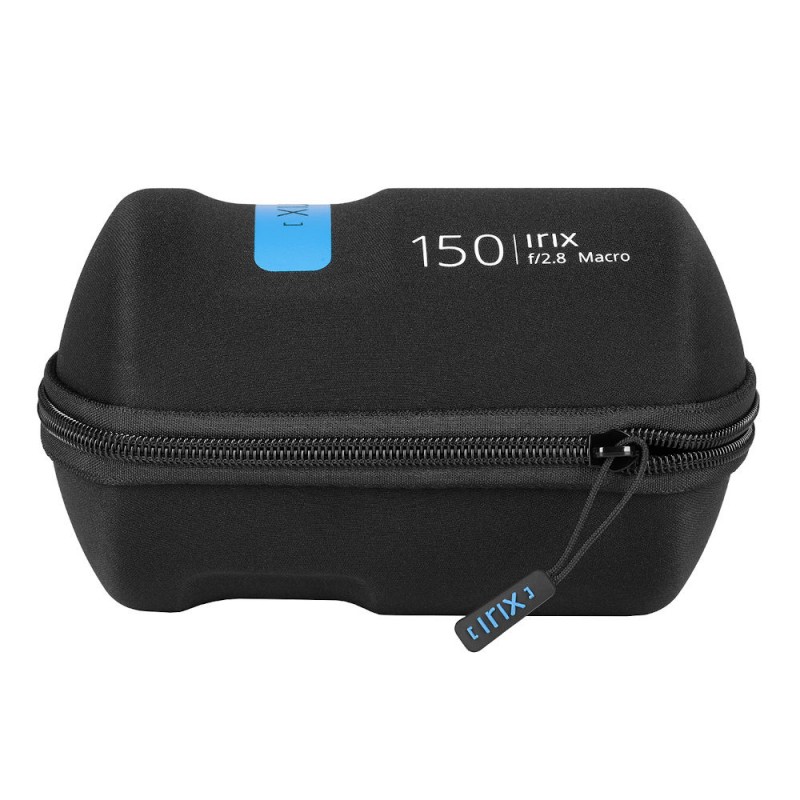 Specifications
| | |
| --- | --- |
| focal length | 150mm |
| minimal aperture | F2.8 |
| maximum aperture | F32 |
| design | 12 elements in 9 groups |
| aperture blades | 11 |
| minimal focusing distance | 0.345m |
| focus | internal & manual |
| filter ring size | 77mm |
| sensor | optimized for full frame |
| material | material Aluminum body, coated with an Aluminum-Magnesium casing |
Why the Godox MF12 Kit is great in combination with the Irix 150mm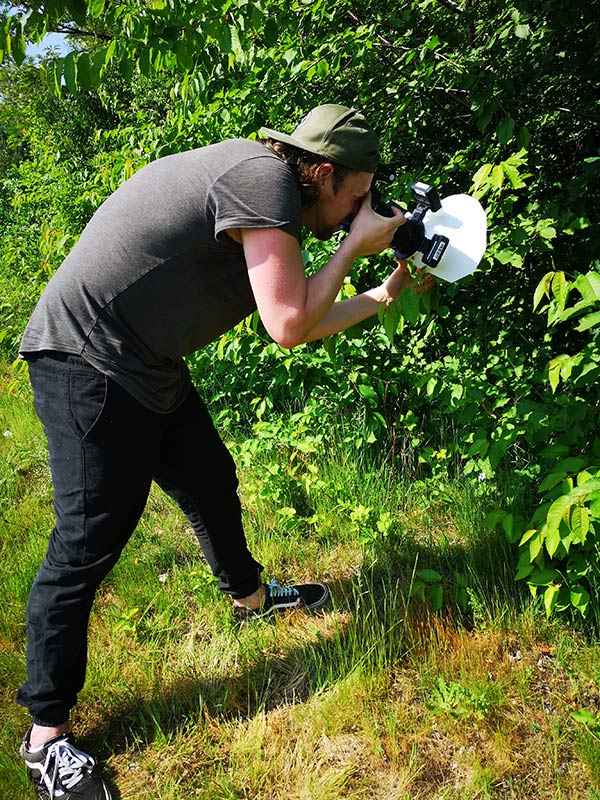 The Irix 150mm macro lens has a considerably greater working distance at 1:1 than the classic macro lens of 50mm, 90mm, or 100mm.
Going beyond a magnification of 1:1, like with some Laowa lenses, or the legendary Canon MP-E 65 (offers 1:1 up to 5:1), usually comes with a very short working distance and requires to get very close to the subject (remember the disclaimer, i am focusing on my personal approach for macro photography of tiny, live specimens which i try to show with a maximum of details possible and in the greatest magnification possible).
Since this type of macro photography requires a lot of light, a flash is usually used.
To achieve even and smooth lighting, the flash is then diffused by a macro flash diffuser.
This works perfectly with the short working distance of the classic macro lenses.
Here is, why using the Irix 150mm macro, is a challenge now: since the working distance is greater, the diffuser does not work as intended.
A bigger diffusion panel would be needed and the flash would need to be set to higher power outputs to reach the subject.
The Godox MF12 flashes are attached to an adapter ring, that sits right in the lens´ filter ring – hence being closer to the subject than an on-camera speedlite flash.
The common and most-used macro diffusers will not work with that setup though, as the flashes are so close to the front lens.
A diffuser which i found works pretty well with the Irix 150mm macro – Godox MF12 – setup is the Popeshield, as it directly attaches the diffusion layer to the lens´ filter-thread.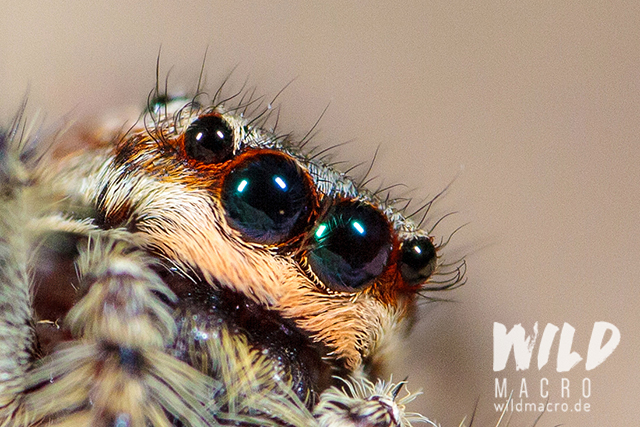 If used on bigger subjects (snakes i.e.), with greater distance between them and the lens, I would probably recommend using a complete off-camera flash/diffusion, like a handheld speedlite or flexible articulating arms.
Combining the Irix 150mm with the Godox MF12 creates a very flexible setup with lots of lighting options.
Using more than one MF12 at the same time, opens up a whole new world of macro lighting options.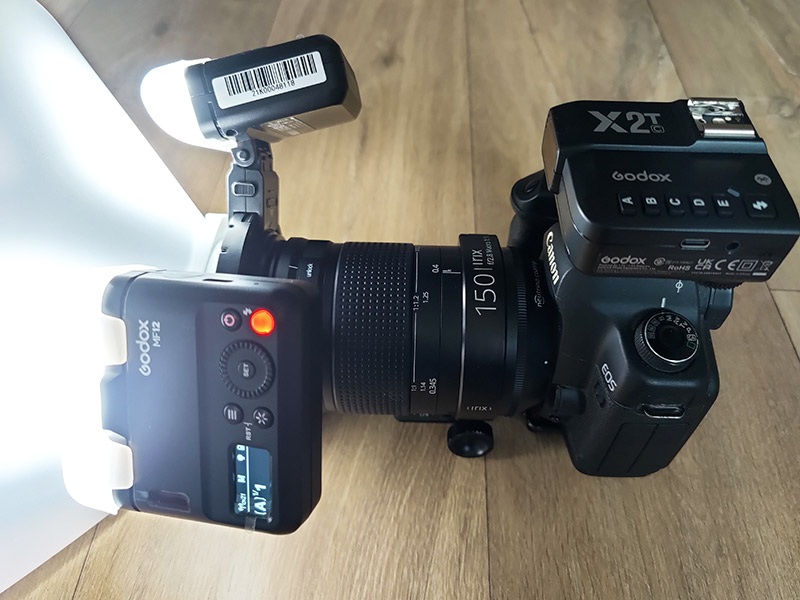 Working with the Irix 150mm 1:1 Dragonfly Macro
Personally, i try to get as close as possible when i am photographing macro – both regarding the actual photo and how the subject is presented, but also regarding the actual distance between lens and subject.
The Irix 150mm´s minimum focusing distance was a challenge for me, as i had to move back further away than i was used to.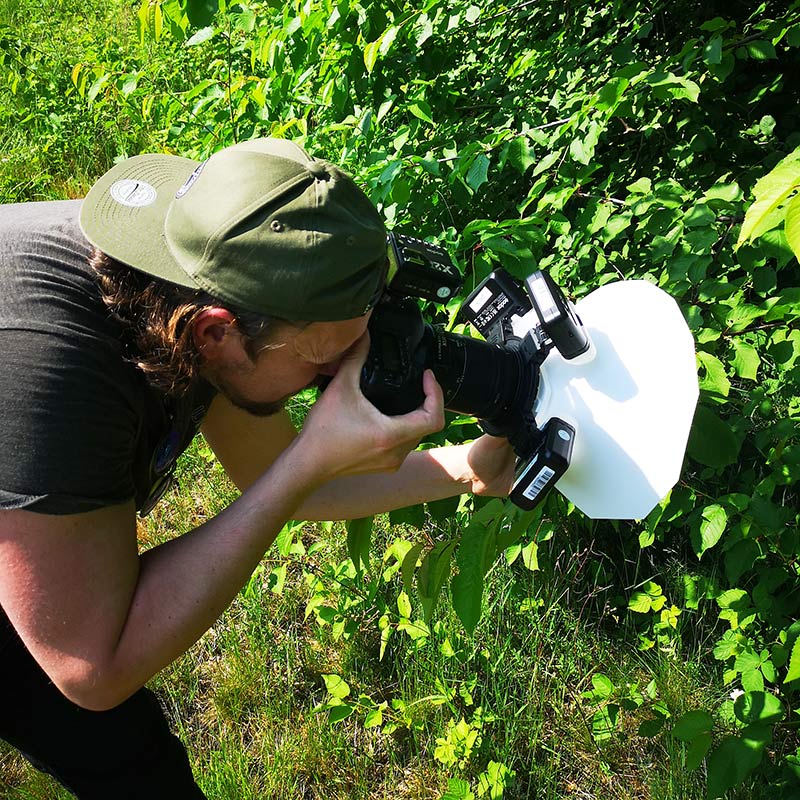 Since the lens is physically longer and heavier than a compact standard macro lens, focusing appears to be a lot more shaky.
The longer focal length of 150mm also increases this effect.
Depth of field is also rather shallow at 150mm, even more so at 1:1.
Getting the focus right under these circumstances is definitely a challenge, especially since the lens does not support AF.
To make up for the greater distance between subject and lens and still get, let´s say a jumping spider, to fill the frame, a magnification of 1:1 is almost not enough.
The bigger the specimens, the better – and here lies the strength of this lens: photographing bigger subjects in the 'relative' distance (while still being close, since we are in the macro range here).
Just like the lens´ series name, a dragonfly would be a great subject to aim the Irix 150mm macro lens at.
Simply everything that can fly/flies and/or has a short flight/escape distance.
When it comes to the handling of the lens, I must say it is very well designed and a lot of thought obviously went into its features.
The focus ring moves extremely smooth and shifting the shallow depth of field can be controlled with absolute precision.
The lens also has a focus lock, to make sure it stays at the desired magnification.
Combining the Irix 150mm 1:1 Dragonfly Macro with the Godox MF12 macro flashes
The Godox MF12 system appears like it was made for this lens.
It attaches right to the filter thread of the lens and creates flexible lighting options, especially if you are using 2, 3 or even 4 MF12 flashes simultaneously.
Another advantage by using the MF12 attachment ring on the lens, is, that you do not risk casting a shadow from the massive lens onto your subjects, by using a flash on your camera hot shoe.
The setup gets pretty front-heavy though.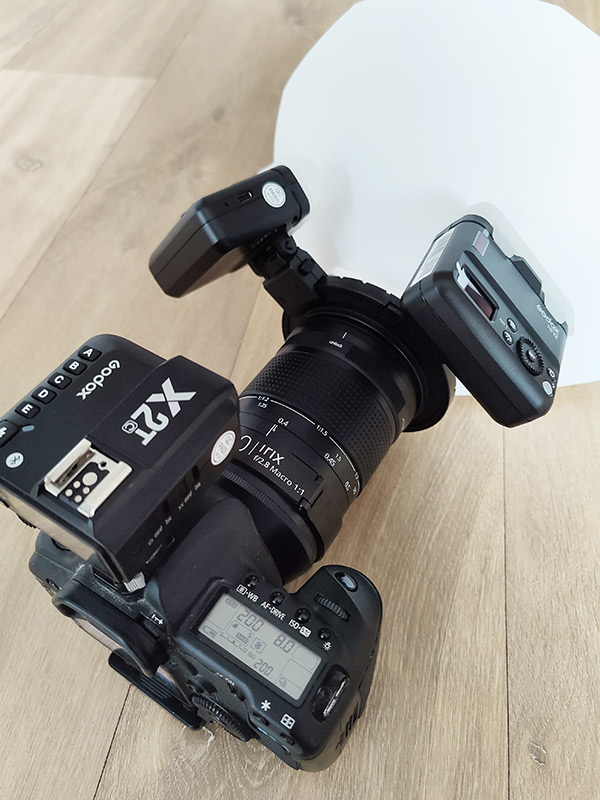 Using the Irix 150mm Macro EF on the OM System OM-D E-M1 III
I also tried to adapt the lens for my MFT system, using a Viltrox EF-MFT adapter.
This makes the 150mm effectively a 300mm macro lens.
How crazy is that?
Technically, on paper, this is a great setup, just perfect to shoot macro from the relative distance.
The lack of auto-focus and real compatibility with the powerful OM System features though, makes handling this combo a challenge.
My smaller flash diffusers also do not fit well with the massive lens – except for the Popeshield, which i mentioned earlier.
There is lots of potential, so i am definitely not done yet testing this setup.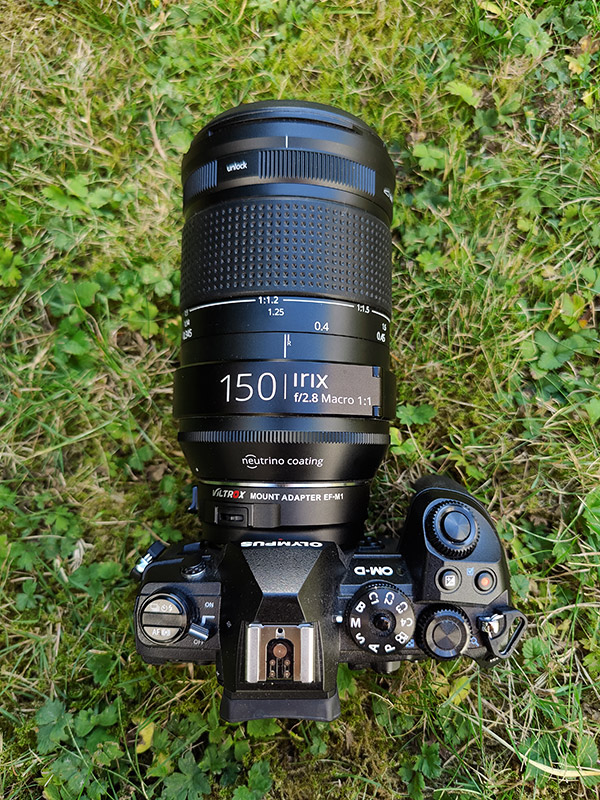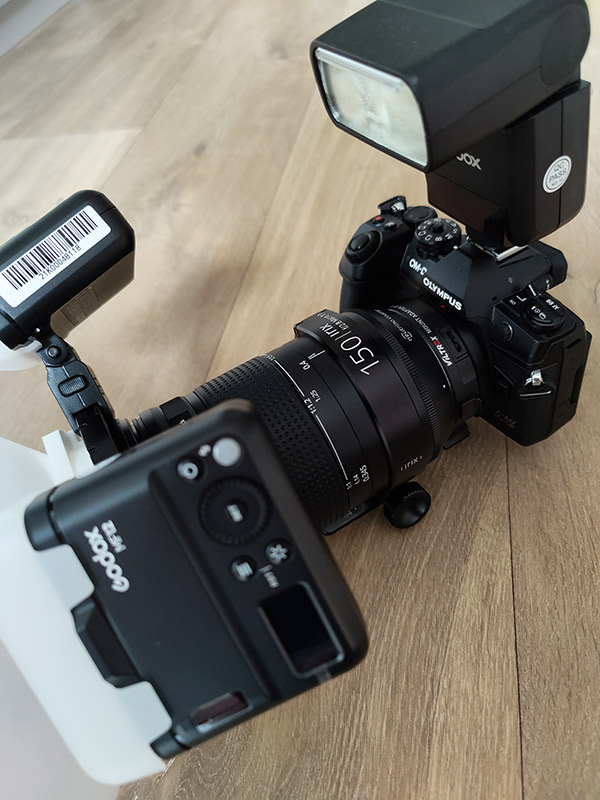 Example photos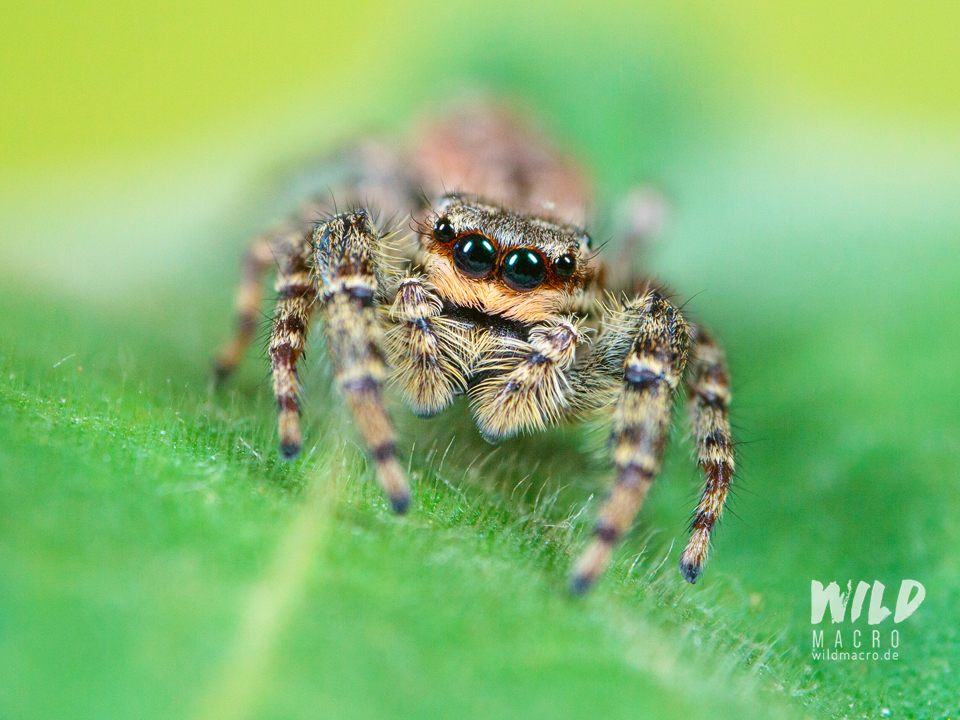 Conclusion
The Irix 150mm Dragonfly is a great lens, no question.
Build quality and optical quality are on top level.
Using it for macro work on a full frame DSLR as intended, it can play its strengths, both for macro and for video as well.
It really depends a lot on how close you want to get and even more so, how big your subjects are.
As described above, for extreme close-up macro photography of tiny subjects it simply does not get close enough with 1:1 magnification and handling the lens is more challenging than a classic macro lens with shorter focal length (60mm, 90mm, 100mm).
If you are photographing (or filming) bigger subjects, like products, or insects like butterflies, the lens is really fun and gives a great compromise between focusing distance and magnification.
All that while feeling and looking absolutely gorgeous!
Give yourself some time to master handling it, though.