31 May

Review: GODOX V860III Flash for Macro Photography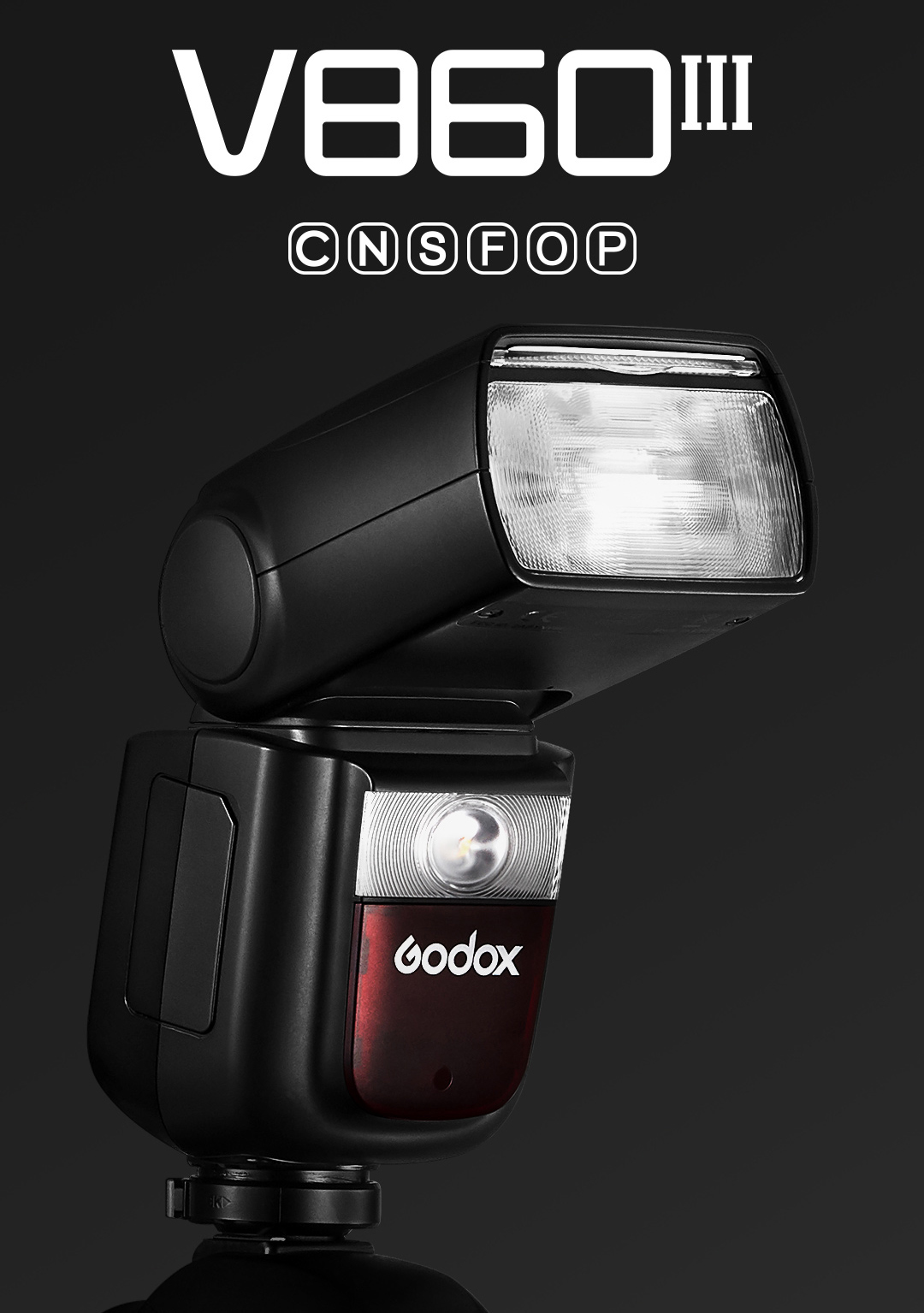 For modern Macro Photography using a flash can benefit the sharpness and quality of your images greatly.
As soon as our motifs are tiny, moving animals, like insects, a flash can be a game changer.
I have been a loyal Godox User, since i first discovered their V Series, which uses a Li-ion battery instead of being powered by standard batteriy sets.
My various sets of eneloop batteries have not been used often since.
For my last trip to South Africa i decided to test the V860IIIO alongside my trusty V350O, to see how the bigger brother works on my compact Micro-four-thirds (MFT) setup.
Let us take a look at the V860III specifications, talk about the Pros and Cons and find out if it is as good as the V1, which I have tested before, for Macro Photography.
About GODOX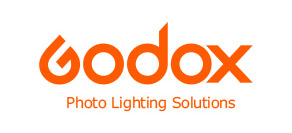 The chinese Company focuses on innovative lighting equipment and solutions. GODOX offers a broad range of studio photography equipment, studio flashes, portable power packs, outdoor flashes, flash accessories, camera flashes and flash control systems (triggers).
Their innovative products are of high quality at a moderate price tag.
With the V series they offer a range of flashes that have some obvious advantages over other brands and models.
Here have written an article on the GODOX V series features here, if you are interested.
To learn more about the innovative Godox MF12, you can read my review here.
The GODOX V860III
As most of Godox' flashes, the V860III TTL Li-ion Camera Flash is available for Canon, Nikon, Sony, Fuji, Olympus and Panasonic Cameras (watch for the letters C/N/S/F/O/P in the model version´s name).
Just like the product name says, it is the successor of the V860II, which was very similar, but got some substancial feature upgrades (like the modeling light).
If you want to skip the specs you can directly jump to the part where we discuss what makes the GODOX V860III such a great Camera Flash for Macro Photography.
The Specs are very similar to the GODOX V860II Speedlite, but there are some differences that could make you consider upgrading even if you already own the V860II.
You can find and read the full manual of the V860IIIO here.
Specifications
Battery: Lithium battery 7.2V/2600mAh (removable)
Recycling time: Approx. 0.01 to 1.5 sec
Number of flashes (approx): 480 full power flashes
Flash Colour temperature: 5600K +/-200K
Flash Duration: 1/300s to 1/20000s
Optional external power supply: No
Power: 76Ws
Maximum Guide Number 28m @ 50mm & ISO 100
Weight: 410 grams (without batters), 520grams (with battery)
W x H x D: 195 x 75 x 59mm
Exposure Control System: E-TTL II
Flash head angles: swivel 0°-330° horizontally, -7°-12ß° vertically
Flash head zoom: 20mm – 200mm
High speed sync (HSS): Yes (up to 1/8000s)
Second-curtain flash sync: Yes
Modelling flash: Yes (fired with camera's depth-of-field preview button)
Modelling lamp: Yes 2W LED continuous light with 10 step adjustable output, colour temperature 5300K
Multi (stroboscopic) flash: Yes
Colour temperature info communication: Yes
Remote shutter release: No
Custom function: 11
Flash settings from camera menus (with compatible cameras only): Yes
External flash exposure sensor (S1, S2): Yes
PC terminal: Yes 2.5mm sync port
USB socket for firmware updates: Yes (USB-C port)
Radio Wireless (RF) 2.4GHz (master & slave)
Godox radio wireless X system
Max. range approx. 100m
Master controls up to 4 groups. (A, B, C & D).
Slave / Receiver groups 5 (A, B, C, D & E).
Dedicated X-series controller needed to fire it.
32 channels with 99 IDs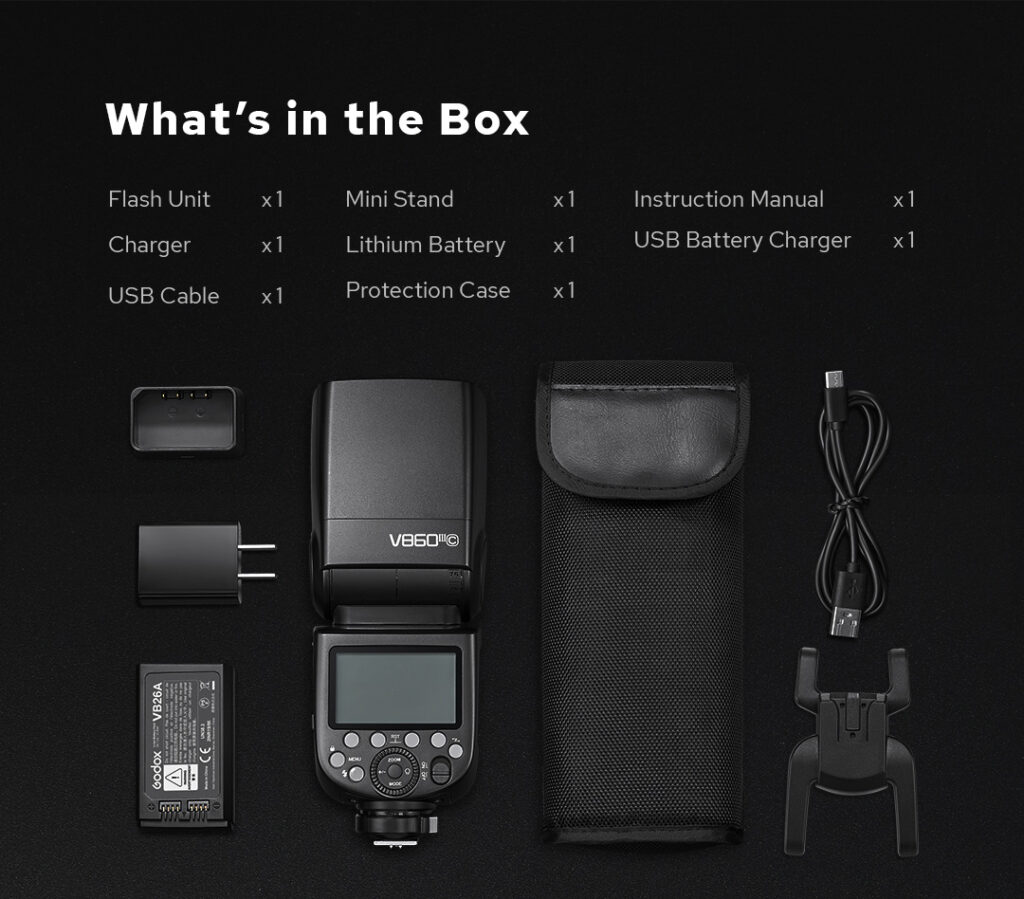 Tip: the height of the Godox V860III with the flash head looking forward is approx. 13,7 cm, with the flash head being approx. 7cm wide..
This might be important measurements if you are planning on getting a customized flash diffuser for the speedlite.
What are the V860III´s best features?
Li-ion Battery
One of the features that is a big time-saving aspect for me, is the Godox battery that is used for the V Series speedlites..
I have always been a big fan of the eneloop batteries and own 10 sets of them.
I must admit though, that after using the GODOX Li-ion batteries i have not missed them a single day.
Instead of using 4 batteries per flash, i can now change my single battery a lot easier.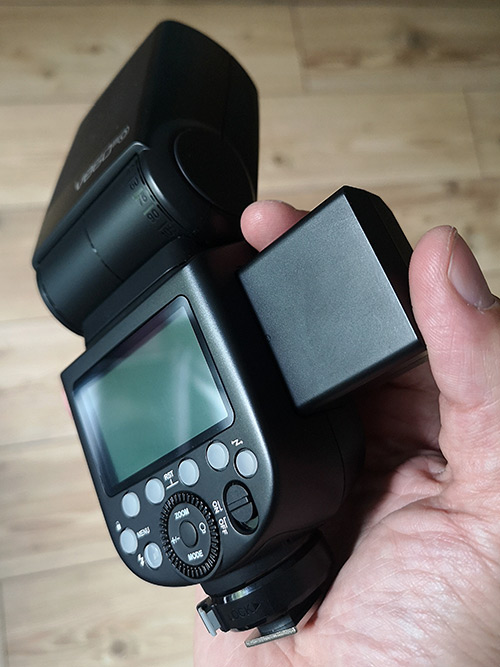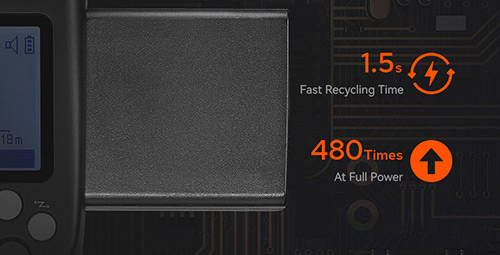 Just like the V1 the V860iii has the same design, where there is no battery cover: the battery itself seals the battery bay.
This speeds up changing the battery considerably, even one-handed.
The battery also provides a stable and continuous power-output that is even superior to the eneloops.
Although i always have a second Li-ion Battery for my various V flash models with me, I have never run out of power on my macro trips and can hardly imagine a situation where this could happen.
A thoughtful design fact: the battery of the V860iii is interchangeable with the V1.
Modeling Lamp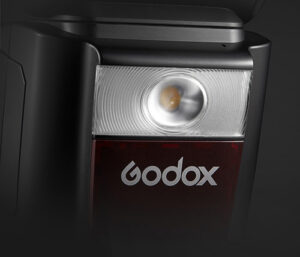 Like the V1, the the V860III has a built-in modeling lamp, which can act as a focusing light for macro photography.
At night this really comes in handy, as well as when your viewfinder is dark and focusing can be challenging.
You forgot your dedicated focusing light?
No problem, the V860iii has you covered.
For a macro diffuser, that has no backplate, like the Cygnustech Diffuser for example, it actually perfectly integrates as a focusing light.
The V860III also remembers if you had your lamp turned on previously and will again turn it on, when you shut down the speedlite earlier and repower it.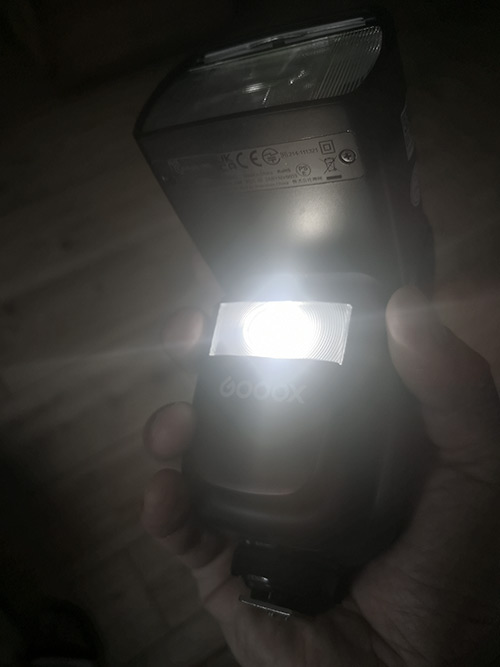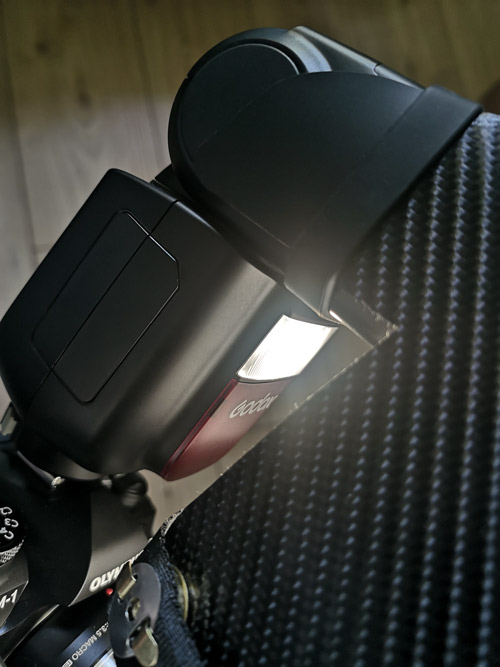 Quick switch for Manual and TTL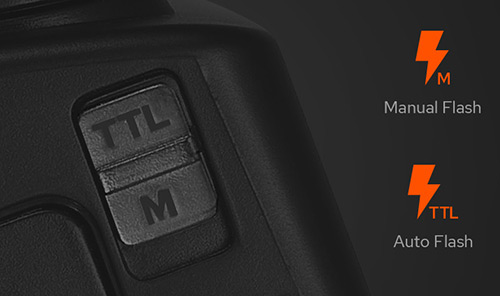 The Quick switch for Manual and TTL is very practical.
This 7mm small switch is located on the top left side of the flash body, next to the battery slot.
I don´t use this much for macro photography, but in scenarios where you need to switch modes it is a one-click-solution and hence very fast.

Additional features
The V860III shares another feature with the V1: the hot shoe quick-lock. Like i mentioned in another review, i cannot share the negative thoughts regarding the mechanism, for me it is as stable as the screwing mechanism and even sits a bit tighter, if you ask me.
I like how easy and quick the flash can be attached.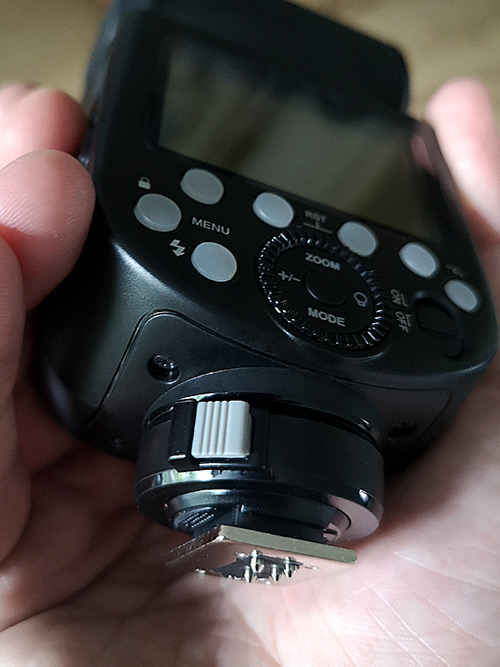 The V860III also features the 2.4G wireless X system and can communicate and fire other Godox flashes as transmitter or receiver.
This integrates wonderfully with my set of MF12, so i can choose if i control them with a dedicated trigger or with the flash on-camera, directly.
Using the GODOX 860III or the V350 for Macro Photography?
While the V350 is clearly the flash i am using the most, the V860III will also always be in my bag.
Both flashes have their advantages and scenarios when i choose to use them.
Let me explain.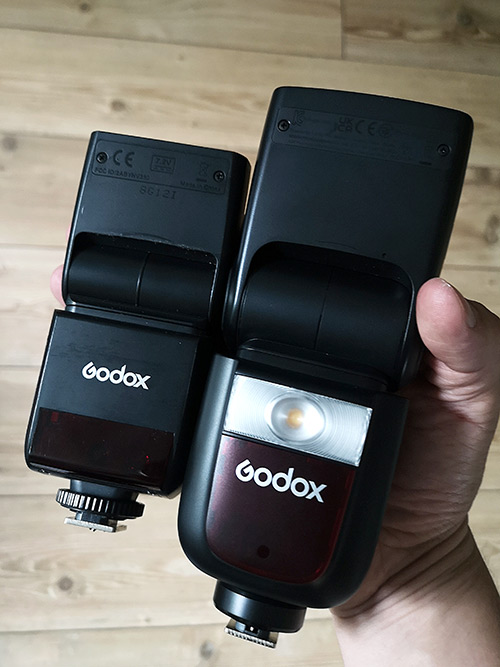 For a compact and lightweight MFT setup, like my OM SYSTEM Camera with the small M.Zuiko 60mm macro lens, the V350 is a great choice, as it perfectly integrates into the handy system.
It comes with the Li-ion battery, which is an absolute winner for me, and still has enopugh power for 90% of all use cases.
However, when i am using a longer lens, like the M.Zuiko 90mm PRO macro, i feel like the V860 makes more sense, to distribute the light to the front and, at the same time, offers me even more flash power.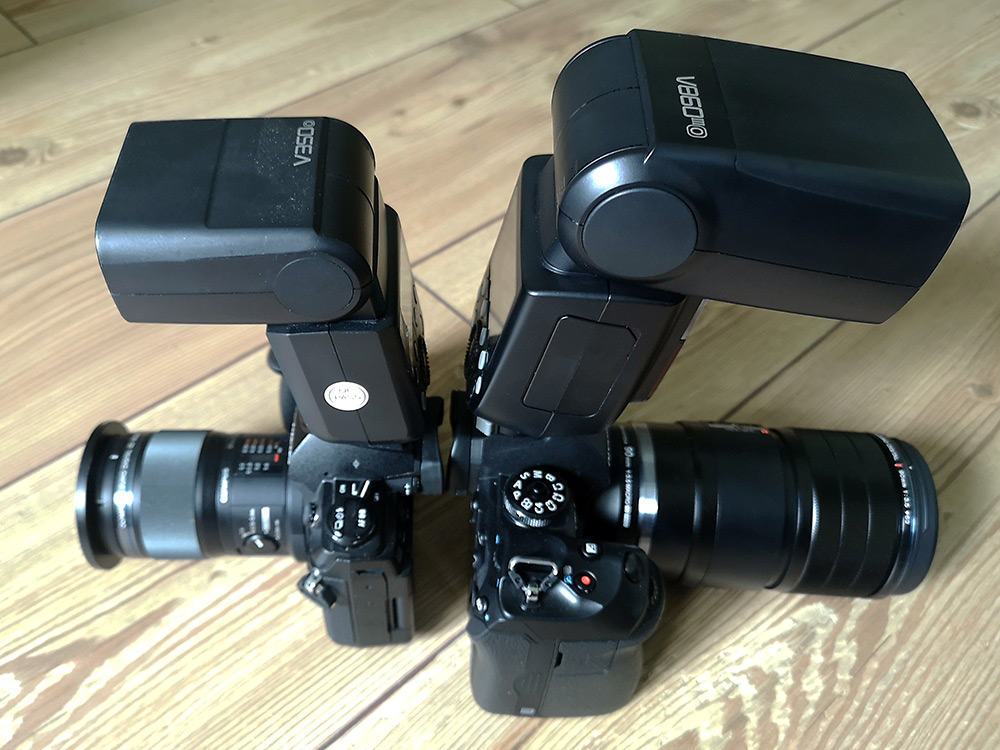 With its focusing light / modeling lamp on board (which is a bit more powerful than the V1´s lamp), i can comfortably decide if i want to use that one, or add a standalone focusing light into the mix.
Whenever i forget to bring an extra light, i always have a built-in fall-back solution now.
When reviewing the V1, i stated that it is probably the best (bigger) Speedlite for Macro photography with flash – the same goes for the V860III now.
I would prefer the V860III even, because it packs a bit flatter than the V1 with its round flash head.
Currently i use two setups, as seen above: the OM-D E-M1 with the M.Zuiko 60mm and a V350O – and the OM-1 with the M.Zuiko 90mm and the V860III.

Sample Macro Photos of insects taken with the Godox V860III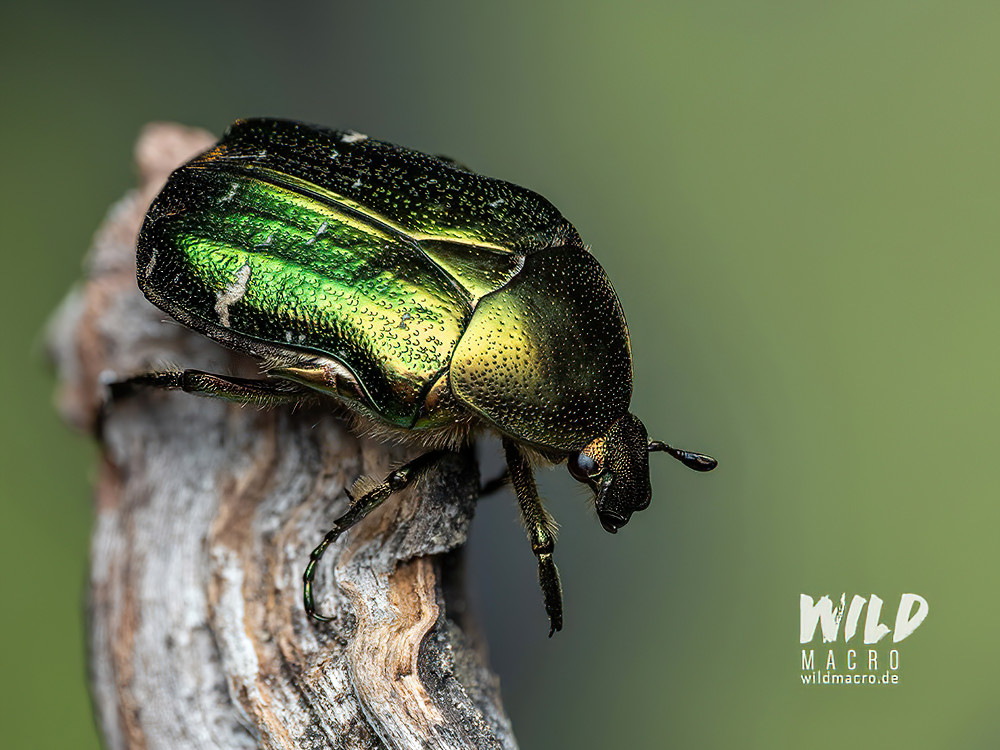 Conclusion
The Godox V860III is clearly my favorite flash, when it comes to specifications and features.
As mentioned earlier it serves as my primary flash on the bigger of 2 setups.
The number of features is hard to beat by other brands´ flashes but ultimately it is the Li-On battery of the V series that makes me choose these flashes over others.
Having the modeling light is a great bonus, when using a macro diffuser.
My only gripe is, that changing the flash power is not as intuitive and fast with the V860III as with its smaller V350 brother.
While, with the V350 you can simply turn the dial to change the flash power, with the V860III you have to left-press the dial to activate flash pwoer control and then acutally turn the dial.
So in the end it requires you one step more compared to the smaller model.
Since speed is a big factor in a macro photography workflow, when working with living, unpredictable animals, every extra step is one too much.
Aside from that there is nothing i do not love about the speedlite.
* Disclaimer: Product and detail photos of the V Series flash models © Godox