29 Mar

Review: LAOWA 15mm f/4 1:1 Wide-angle Macro Lens
The Lens
In this review we will check how the Venus LAOWA 15mm f/4 wide-angle macro lens performs in the field.
Venus Optics is known for supporting niche lenses, especially when it comes to macro photography: they offer a wide range of specialized macro lenses with various magnification variations.
Wide-angle macro is still rarely seen but this lens might change that soon. While there are a lot of self-made solutions, ranging from adapted CCTV lenses to wide-angle lenses with Extension tubes, a true 1:1 lens is a game changer. This one comes with a shift functionality, which adds even more value to the lens.
Working with this lens is not easy and it takes a considerable time to get used to it. Both the short working distance and difficulties getting a balanced and well diffused lighting require you to carefully plan when and how to use this lens – especially at 1:1 magnification.



Disclaimer
Due to the Corona Virus (Covid 19) situation I had to cancel trips to Colombia and to Spain unfortunately, where I wanted to test this lens thoroughly. The following photos were taken without a customized diffuser in bad lighting scenarios, mostly at dusk or at night. Under better circumstances image quality could be greatly improved by lower ISO, the inclusion of ambience light and better visibility of the subject.
Example photos
Earlier this year I had the opportunity to test the LAOWA 15mm f/4 while i was in South Africa on a handful of insects.
I was planning to photograph jumping spiders with it as well, but this turned out to be extremely difficult. A section with these photos might get added later as soon as I actually manage to take some.
The following photos were all taken at 1:1 or with slightly less magnification to demonstrate the extreme effect of the wide-angle.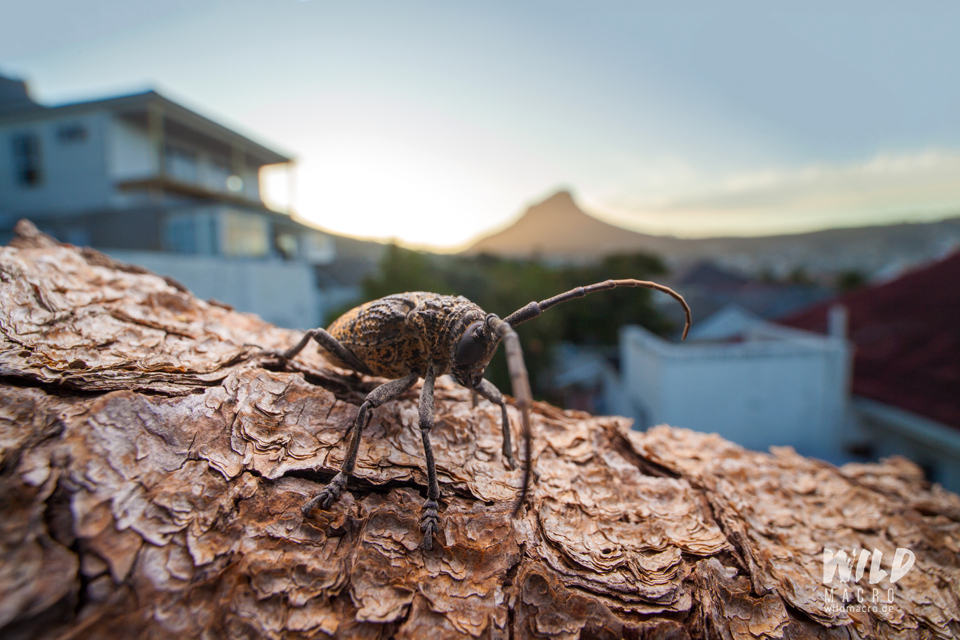 Photographing this fig tree borer longhorn beetle was tricky: since I chose an angle where its right antenna was aiming right at the front lens element I could not get as close as I wished and had to choose a magnification slightly lower than 1:1. Whenever I got closer the antenna touched the lens and prevented me from getting closer. At 1:1 it is extremely important to plan the shot and not have any elements coming closer to the lens than your subject or subject´s main plane of focus. Also lighting is an issue here as a protruding diffuser might also get in the way. Imagine photographing a beetle or spider sitting on a tree trunk: at 1:1 you would be extremely close to the spider and a speedlight/diffuser would touch the trunk before you are close enough for a focus on the spider at the desired magnification of 1:1.
The wide-angle effect here is very nice and gave me the opportunity to include the suburban area and one of Cape Town´s iconic mountains, the Lion´s head.

The same Longhorn beetle at higher magnification, close to 1:1.
Being able to get this close leads to a whole new macro photography experience – and it shows in the resulting photos as well.
The extreme wide-angle effect is clearly visible. This shot was cropped, so the diffuser does not show on top of the image, meaning the wide-angle effect was even stronger straight out-of-camera.

Including the habitat of the photographed subject is a big plus of the LAOWA 15mm f/4.

The colour rendition and sharpness of the lens are surprisingly good. Especially bigger subjects result in an impressive rendering of textures.



100% crop of the above shot.

One of the few shots I could take in daylight. This Thomisus onustus crab spider was rather small (approx.5mm body size) but appears bigger due to the wide-angle effect. Being able to include the flower it is sitting on waiting for prey and the plants of the habitat is very nice and quite different from what you might be used to from true macro lenses at a magnification of 1:1 or even above.

100% crop of the above shot.


100% crop of the above shot.


100 % crop of the above shot.
Update July 2020

The wide-angle effect works very well on this European stag beetle (Lucanus cervus). Choosing a low angle helps exaggerating the impressive mandibles and draws the focus to them.

At 1:1 magnification the lens´ front element almost hit the beetle, even if it looks as if there was quite some distance between the subject and the lens here.

These shots were taken at night handheld, which made it almost impossible to incorporate a well-lit background. Getting enough light to the bottom of the beetle was particularly difficult and requires a well adapted diffuser, which was not used here.

Lens Build
The lens is made from metal and feels very solid. The only problem I see is that the shift mechanism has no markings and you can easily change the setting by accident when handling the lens. Using a diffuser requires you to carefully plan the setup since the classic diffuser, which is often a polypropylen sheet around the lens, will make setting the aperture on the front ring difficult.
The LAOWA 15mm f/4 is full manual and can slow your workflow a little if you are used to full automatic lenses. You have to adjust both the aperture and the magnification ratio manually (plus the shift mechanism if you are using it). At closed apertures your viewfinder will be considerably dark, which makes using a focusing light in bad lighting scenarios mandatory.
Missed shots
When trying out the lens for the first time at dusk I used a diffuser but no focusing light and as a result missed a lot of shots that could have turned out pretty nice. These missed shots/opportunities also illustrate the difficulties that come with the very small working distance at 1:1. Subjects that move or have protruding body-parts towards the lens do not make your life easier with the LAOWA 15mm f/4.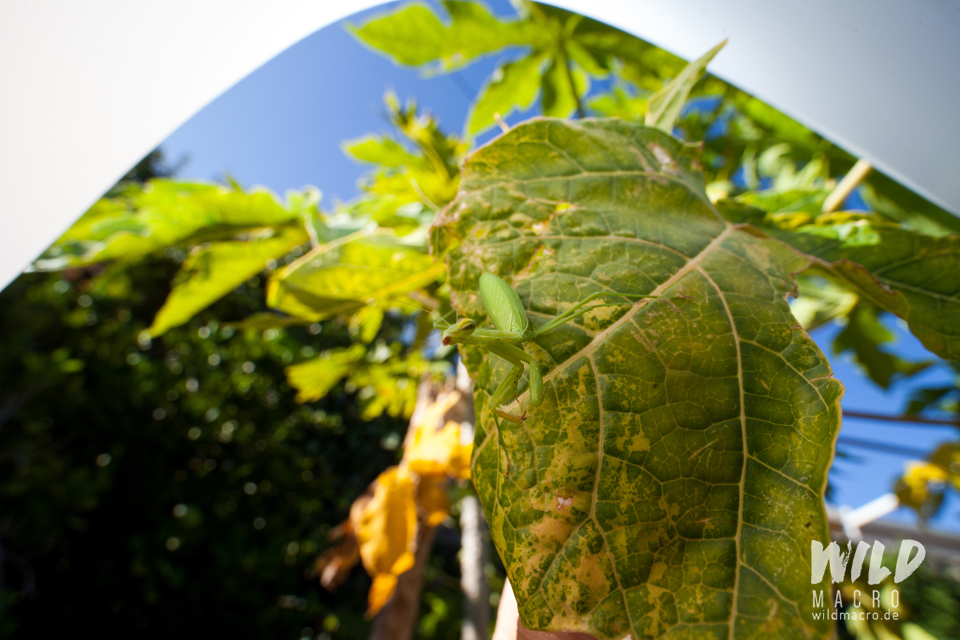 The white areas in the top corners are the concave diffuser I have used, while photographing this mantis at dusk. Due to the extreme wide-angle they became visible. This can be easily fixed with a customized diffuser.
Without a focusing light it was hard to see what parts of the mantis were actually in focus, hence why this nice photo was ruined: I missed the most important part of the insect – its head, which is out-of-focus unfortunately.
A focusing light is mandatory when photographing in low ambient light and with closed apertures.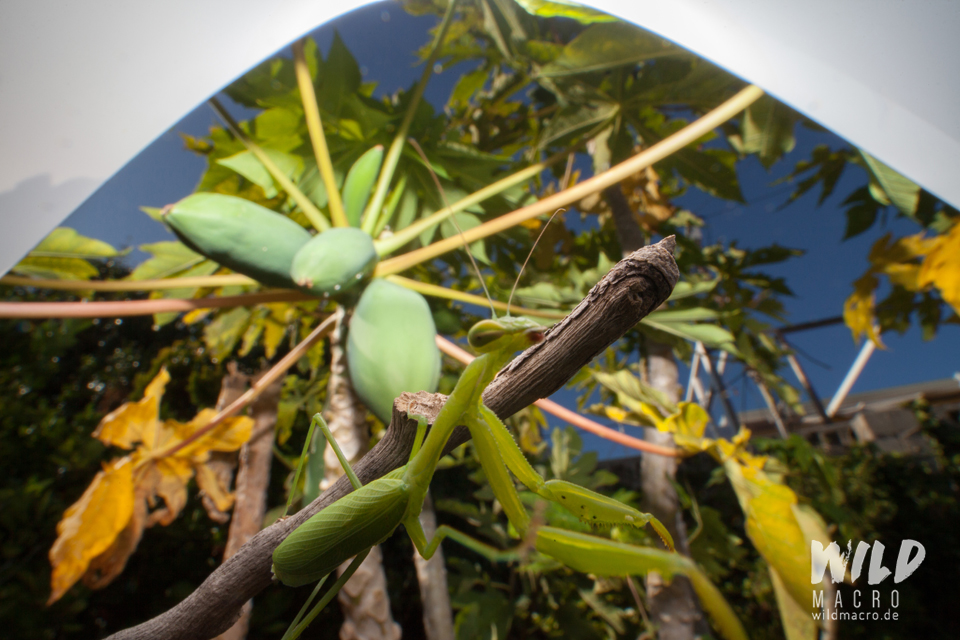 Another interesting shot ruined by a back-focus. Getting this close to insects quite often results in them trying to jump or crawl onto your diffuser, or, in this case, directly onto the lens itself.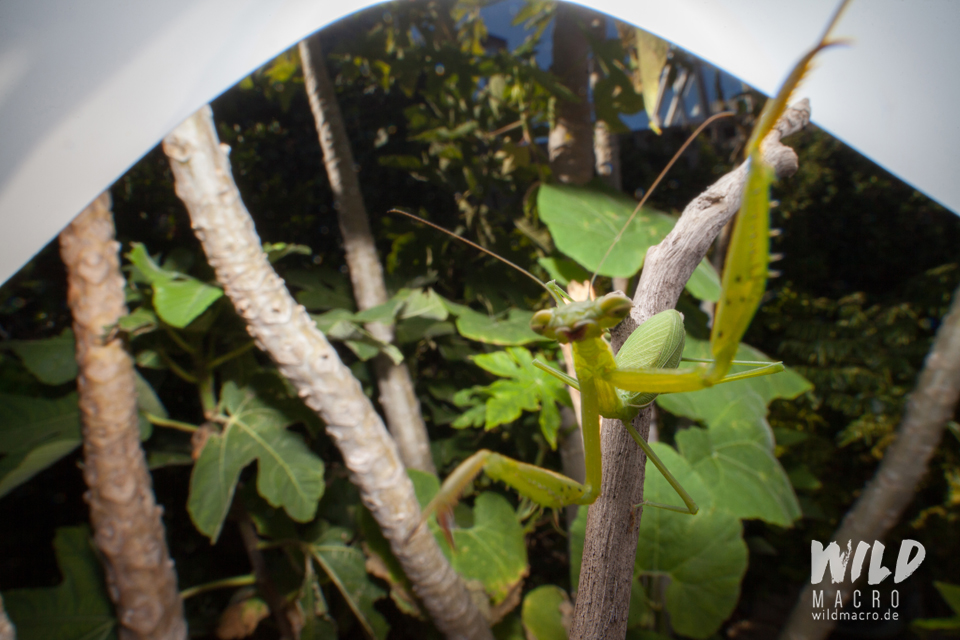 The positive side of the extremely small working distance is getting close and personal with the subject. This can add a lot of character and intimacy to your photos.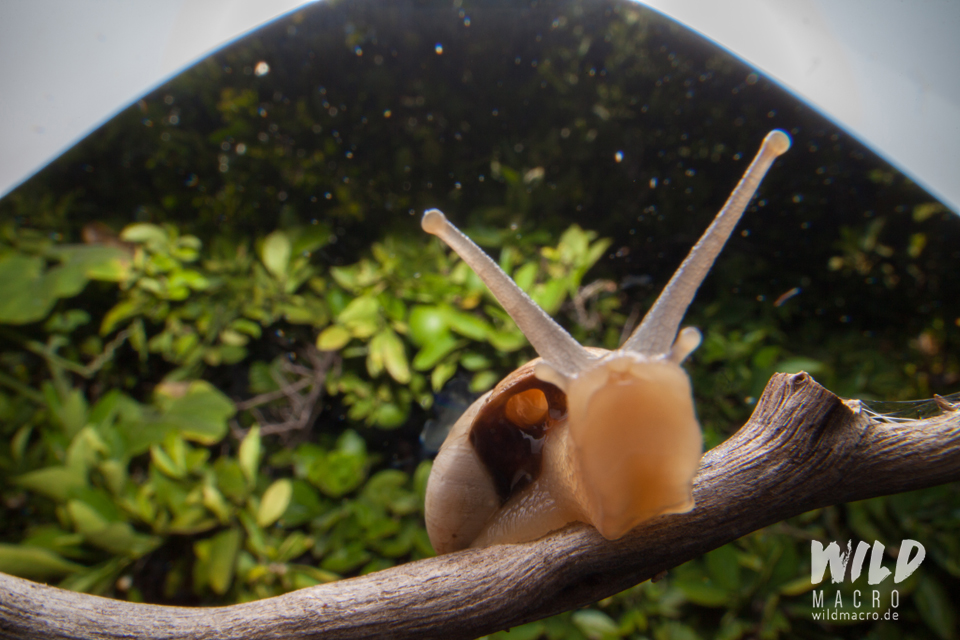 The snail was trying to reach the lens because i was so close to it. It actually touches the front lens element as you can see, with its foot out-of-focus and trying to crawl upwards.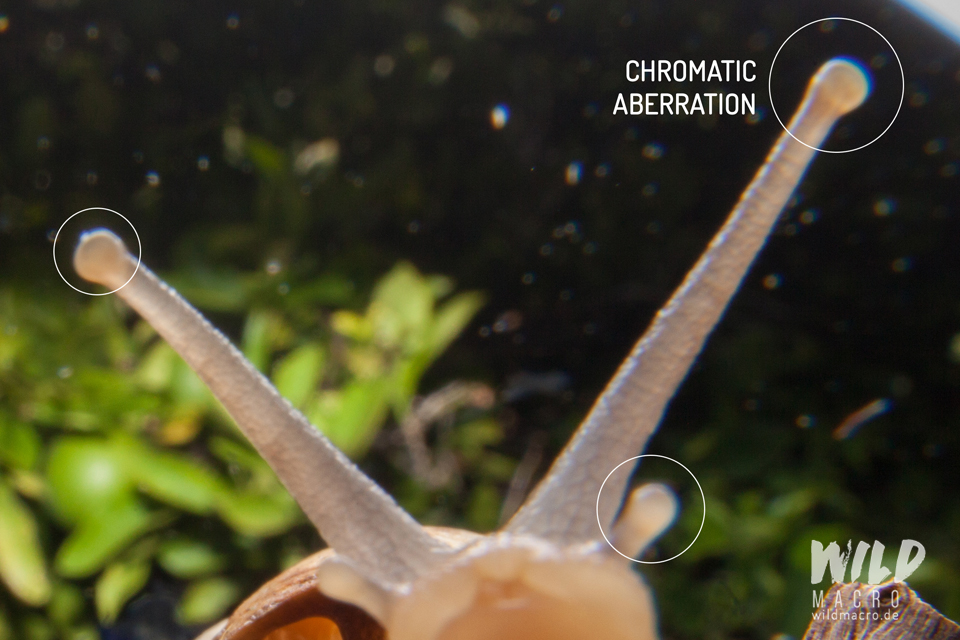 This crop of the snail shows chromatic aberrations, which are intensified due to the off-focus.
Pro/Con
Pros:
1:1 focus to infinity
Great sharpness across the whole frame
Small build
Shift mechanics
Great value-for-money ratio
Cons:
Manual aperture control only (focusing with closed aperture might get challenging)
At 1:1 for macro it might get difficult to light the subject and the close working distance does not work with all subjects
Manual control-rings might be hard to reach when using a macro-diffuser attached directly to the lens
Slight chromatic aberration at 1:1
Conclusion
The LAOWA 15mm f/4 macro is a versatile, sharp and fun lens that renders unique imagery. I will definitely keep using it and look out for scenery to include into my macro shots. It will change how I see my environment now that I can incorporate it into my shots. This presents a great opportunity especially for in-situ shots. But the LAOWA wide-angle macro is also a great lens for architecture – although it did not test it for that (yet).
Building a custom diffuser will enhance the photos you will be able to take with that lens a lot. While I prefer a single speedlite over a dual flash anytime, this would actually be a good scenario to try the dual flash, especially when it has flexible arms, like the LAOWA one. I do not own one though and could not test that.
If you are looking for a wide-angle with excellent macro capabilities: this is your lens. If you regularly work with architecture this lens is even better, with its integrated shift mechanism.