12 May

Ant mimicry by spiders
Ant mimicry
Ant mimicry or myrmecomorphy is mimicry of ants by other species.
Why would other organisms want to pretend to be an ant?

This has to do with ants being either unpalatable or known to be aggressive towards certain species. The mimicking species might hide among ants, infiltrate their nests and steal or feed on their brood or even hunt them while being unrecognized.
They also profit from the fact that i.e. birds know, that ants are not good prey because they simply do not taste due to their acids.
This has been observed with Synageles venator, an ant-mimicking jumping spider, that resembles an ant visually. We will learn more about this species later.

Benefits and risks of mimicry

Spiders are actually some the most common ant mimics and mimic them anatomically and behaviorally:
pedipalps may resemble the ant´s mandibles, legs are often coloured to appear thinner, more ant like, and used to imitate antennae by lifting them off the ground and waving them in the air.
The colours of the ants are also mimicked by the spiders, which often have elongated abdomens to match the ant´s anatomy.
While the mentioned benefits of the mimicry can lower the risks to fall prey to ant-averse predators there is a downside to the fact as well.
Predators specialising on ants will now more likely pose a threat for the spider.
The morphological adaption of the spiders abdomen to the look of the ant results in a decreased number of eggs that the spider can produce.

There are always two sides to every coin. Living among ants puts any ant-associating spider in grave danger anyways.
Let us take a look at how these spiders, that have managed to evolve into such perfect ant look-alikes, do actually look and compare to their models.
The selected species are mainly jumping spiders but also one very special species of Micaria.
This one is not only a perfect ant-mimic, but also a spectacular looking spider in general.
Up-close there are beautiful colours to discover, while, with the bare eye, it looks identical to a uniform-coloured ant.
Ant mimicking spiders
Myrmarachne marshalli (Peckham & Peckham, 1903) – South Africa
The male of Myrmarachne marshalli is easily recognized by its huge elongated chelicerae.
The females do not have these and look more like ants.
In comparison to other ant-mimicking jumping spiders M. marshalli is relatively big, especially regarding the males (up to 7mm) with their before mentioned chelicerae and fangs.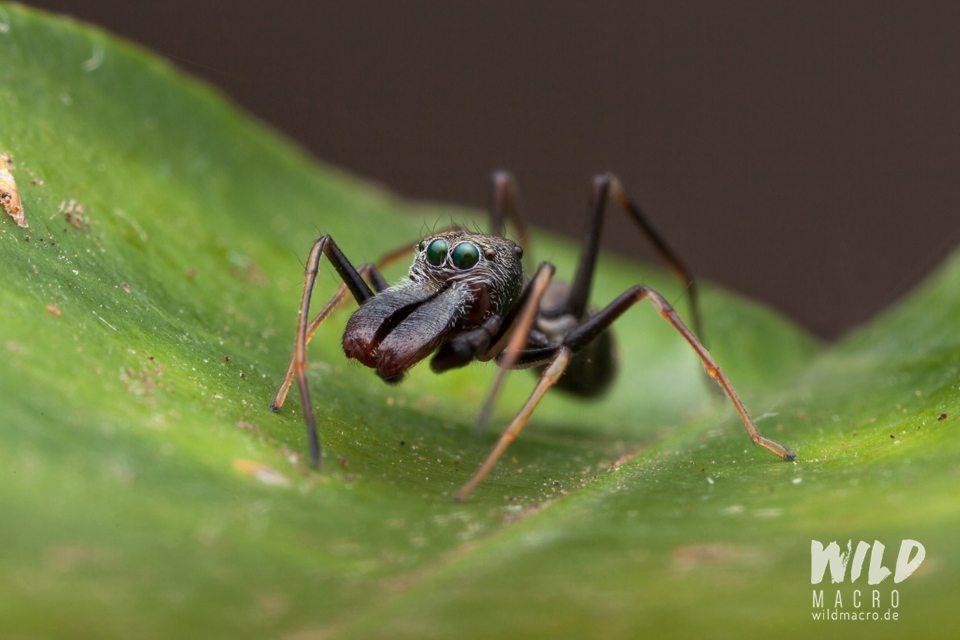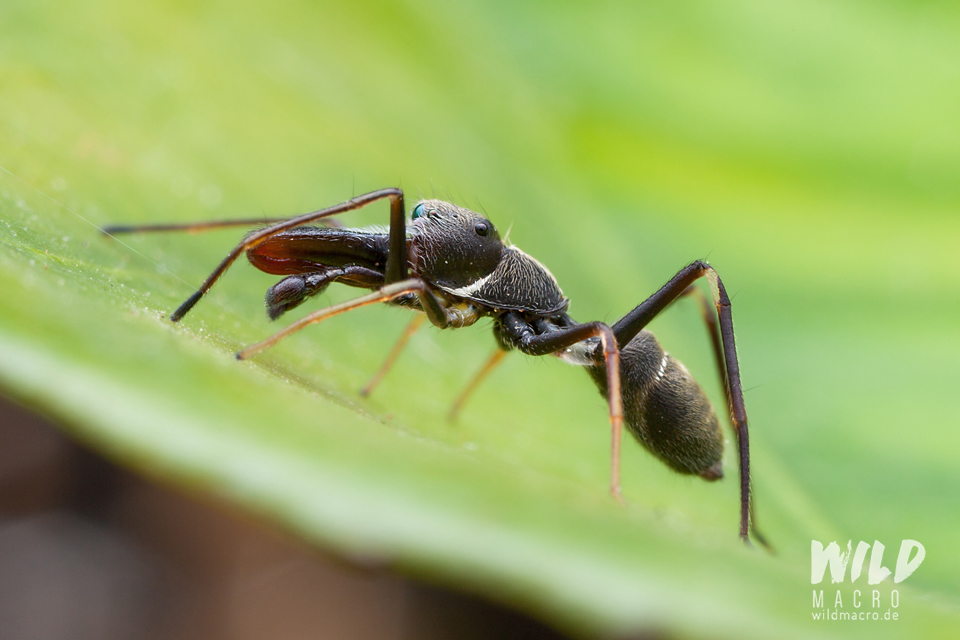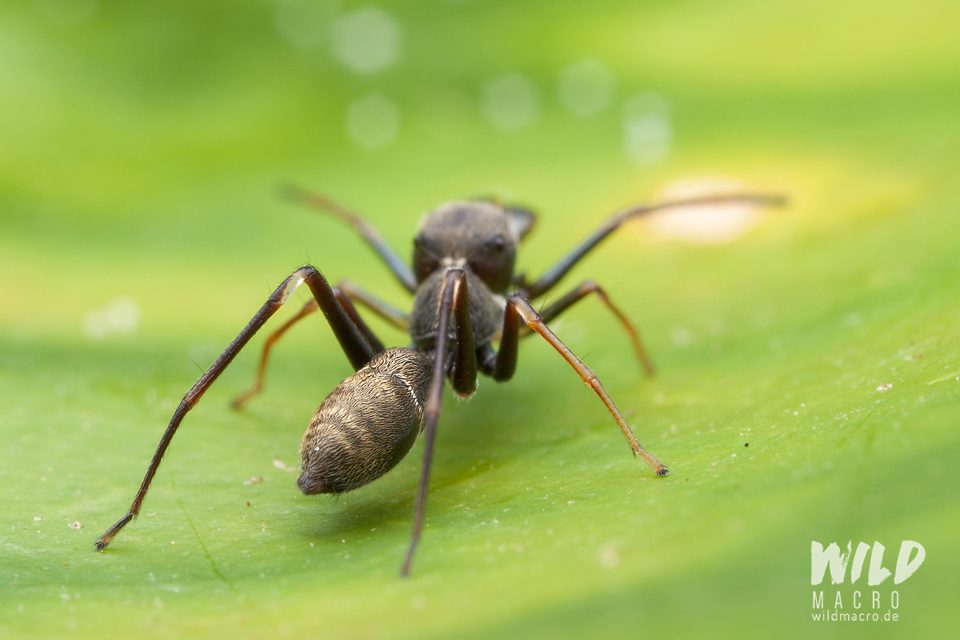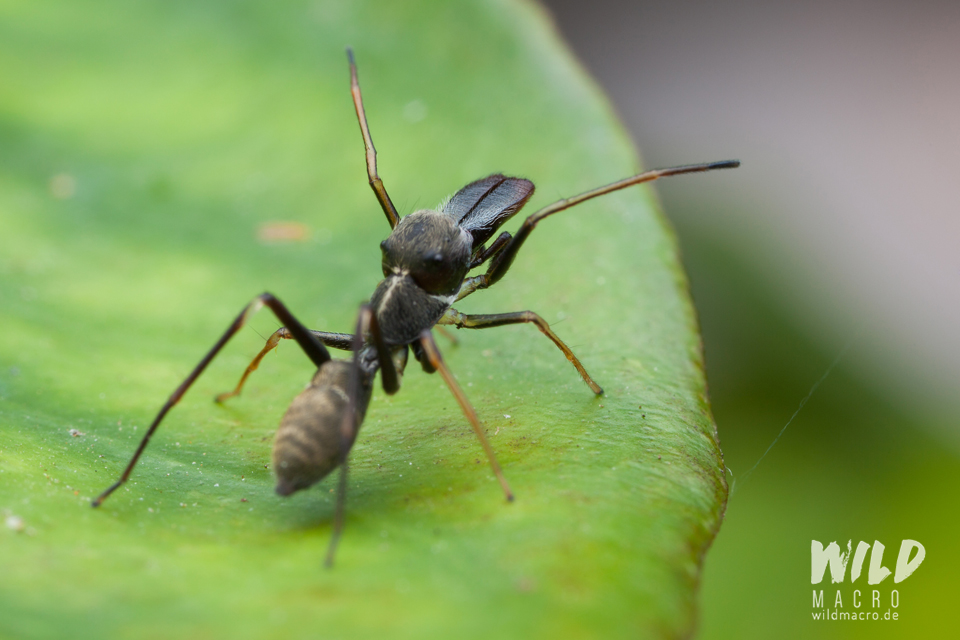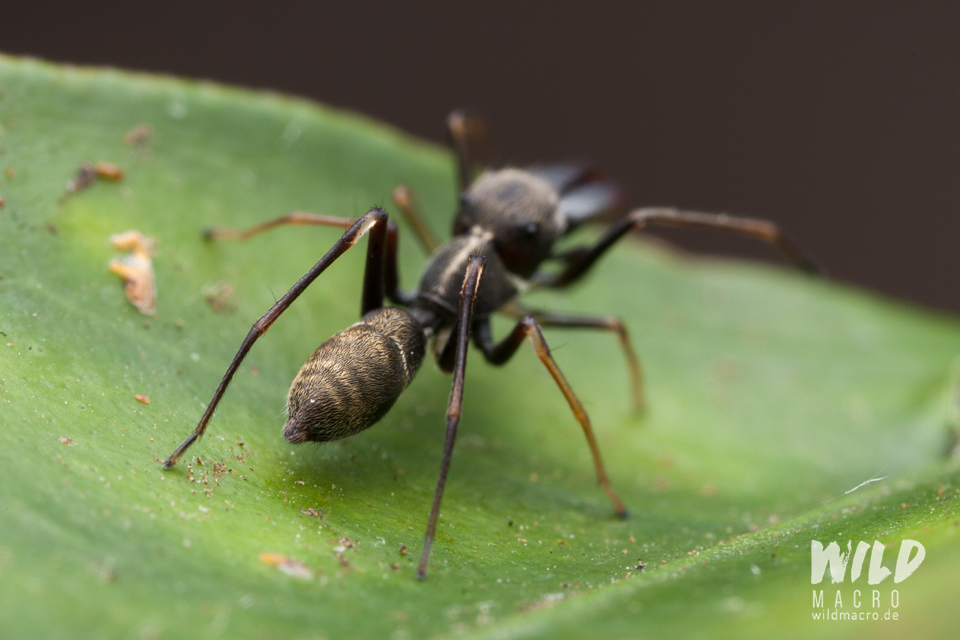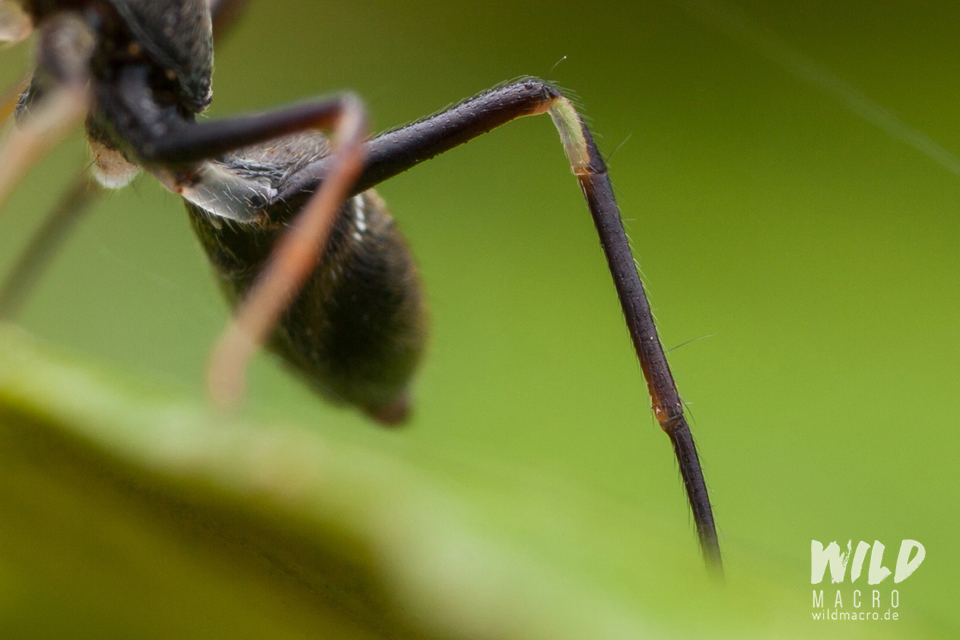 Synageles venator (Lucas, 1836) – Germany
This species lays very few eggs, which suggests they have a high chance of surviving due to the mimicry being very effective.
In an experiment where birds were fed ants and later Synageles venator, it became obvious that the birds did not feed on the spiders after having experienced a negative effect from the ingestion of the ants, or, to be more precise, from their acids.
This shows how effective the mimicry is and that it definitely has a defensive component.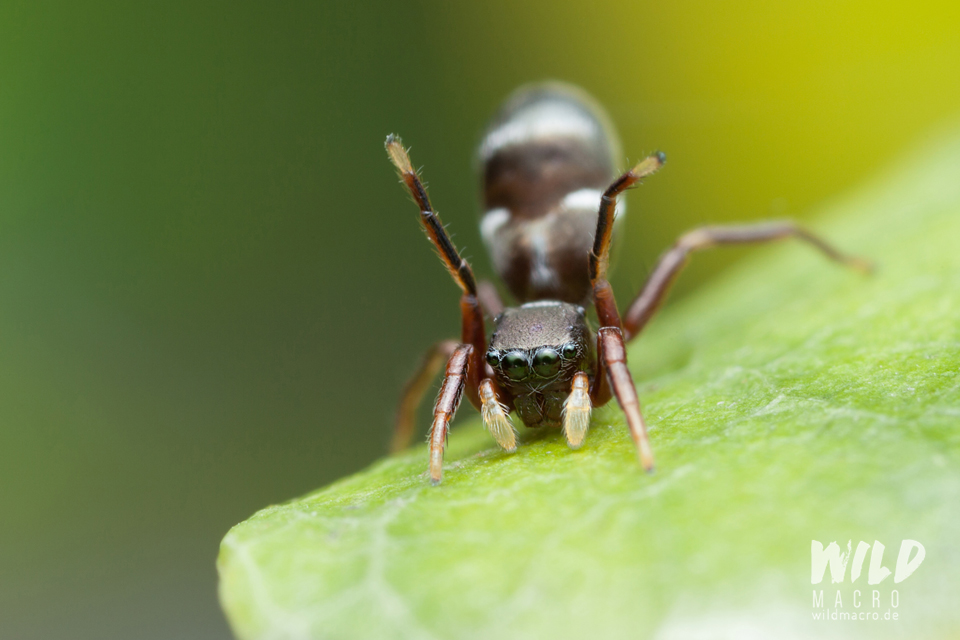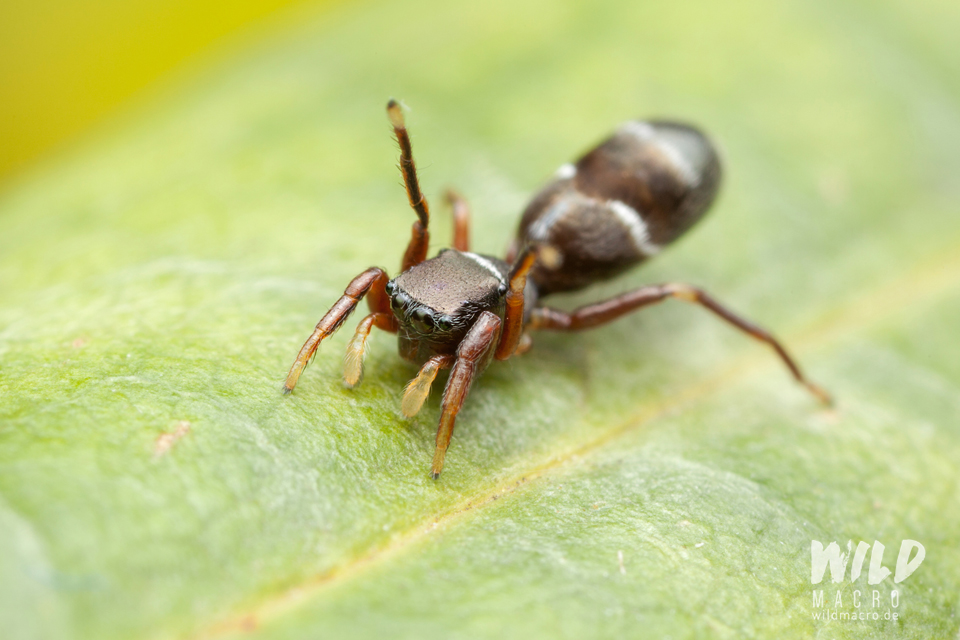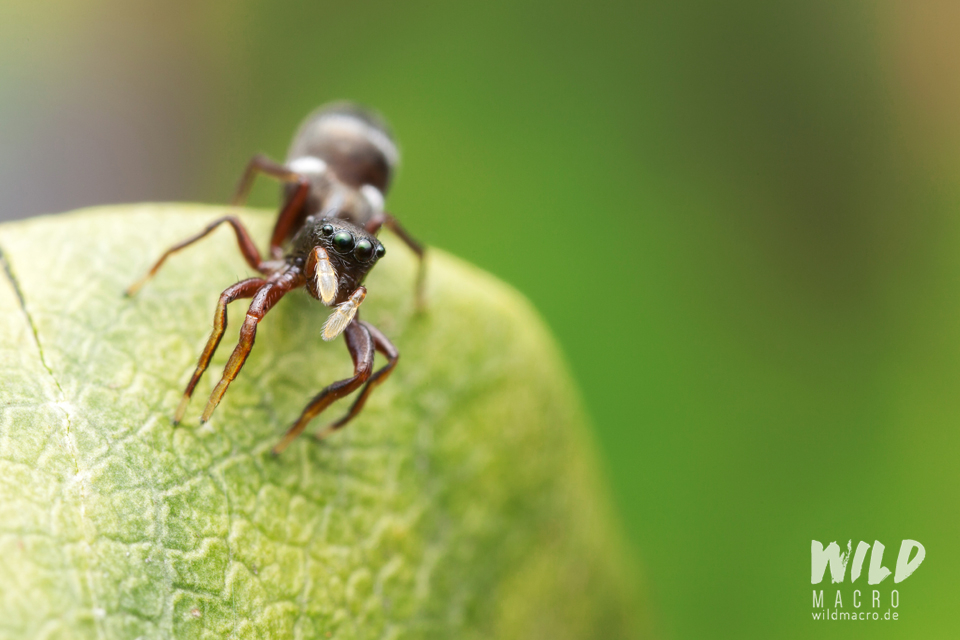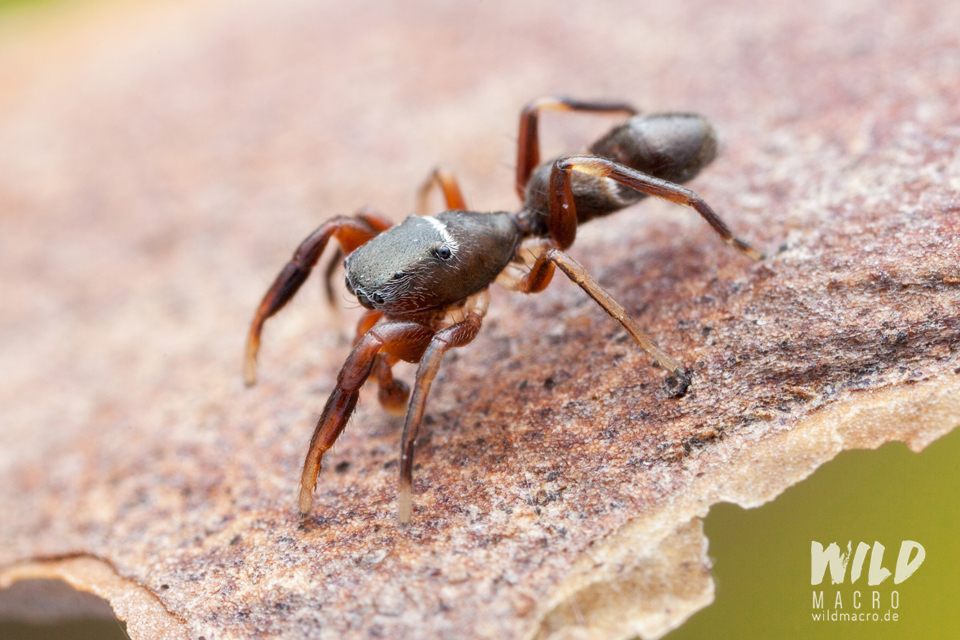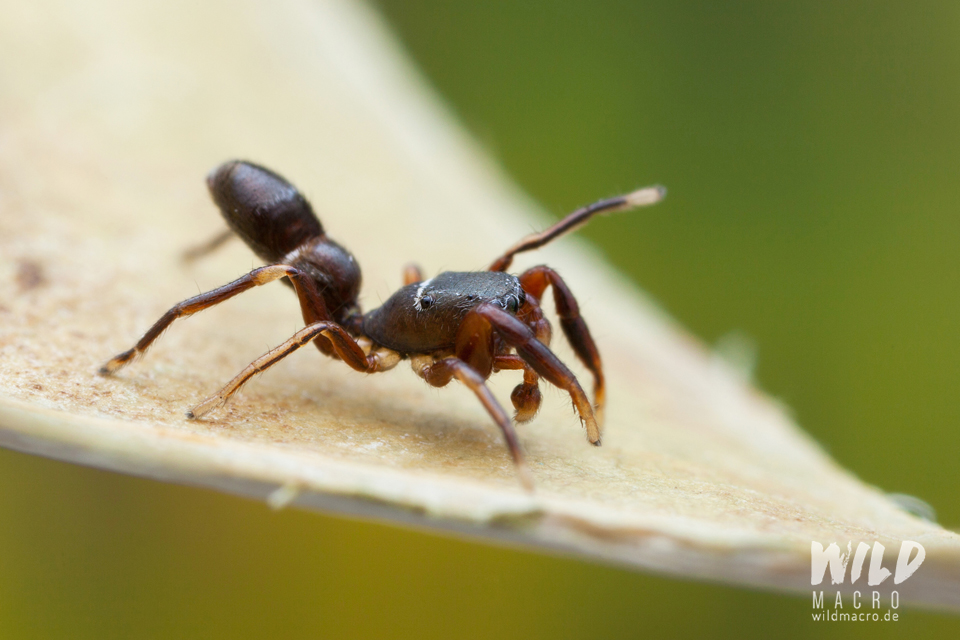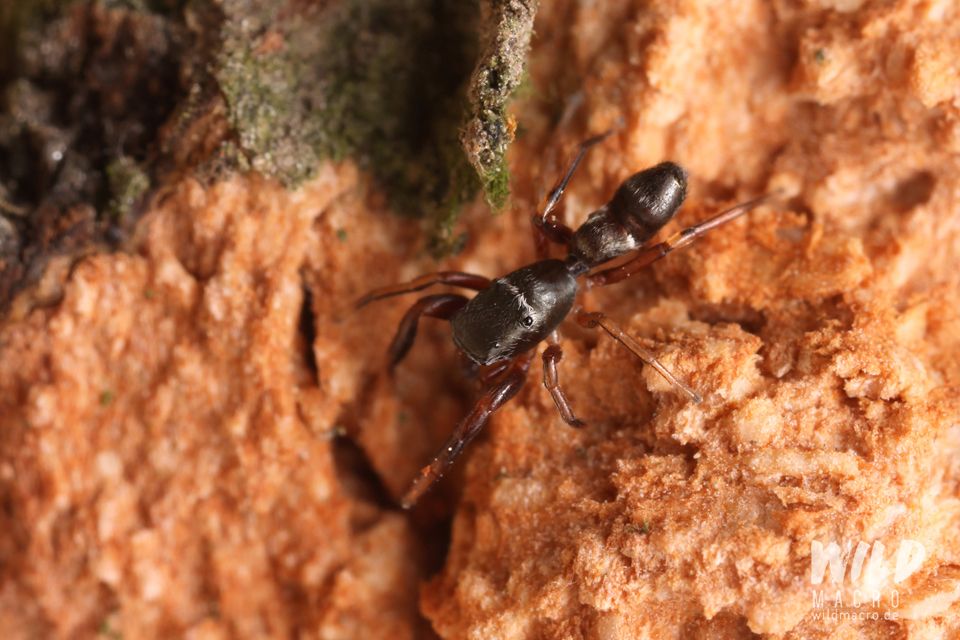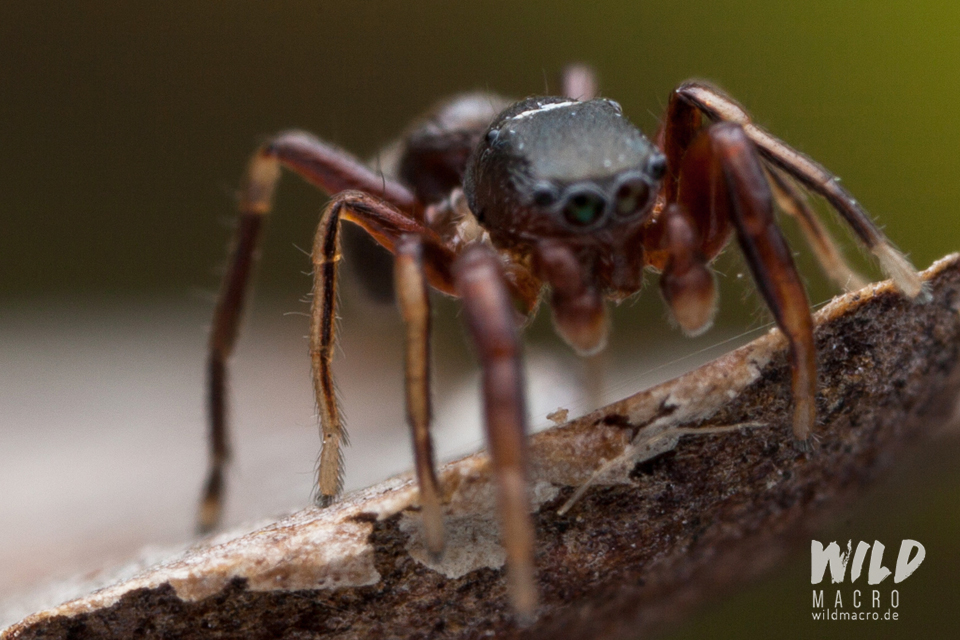 Micaria sp. – South Africa
There are quite a few other spider species that mimic ants as this is not a technique exclusively used by jumping spiders.
Micaria is a genus of tiny ant mimicking ground spiders (Gnaphosidae) that has a very slender physiology and moves very fast and abrupt, very much like a real ant.
The spider does not have a clearly constricted opisthosoma but shows a dent which could also have be caused by dehydration.
The beautifully coloured iridescent scales can only be seen with high magnification: with the naked eye the spider looks black or grey and is hardly to tell apart from the ants, to which they keep close proximity.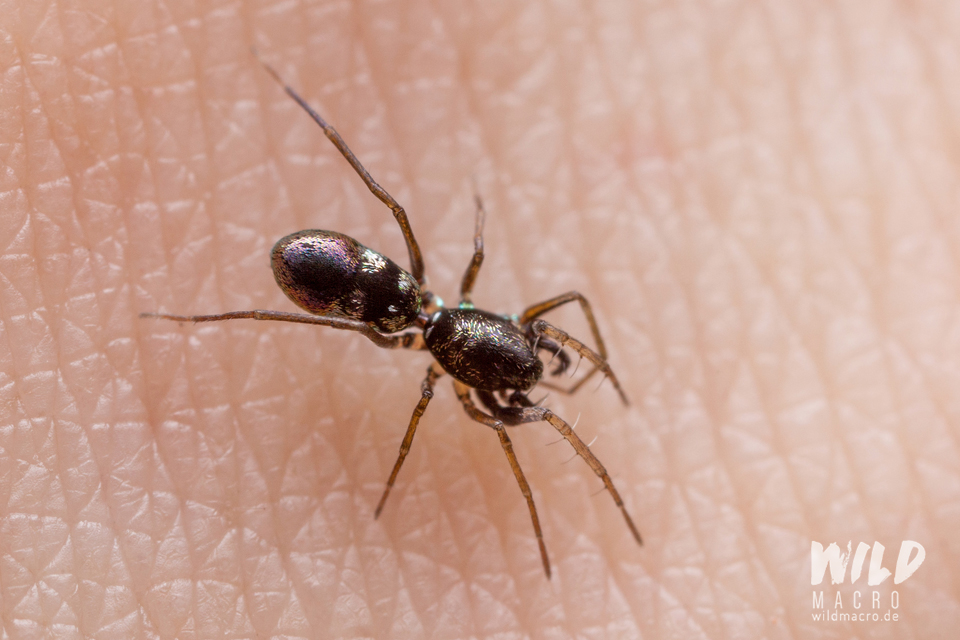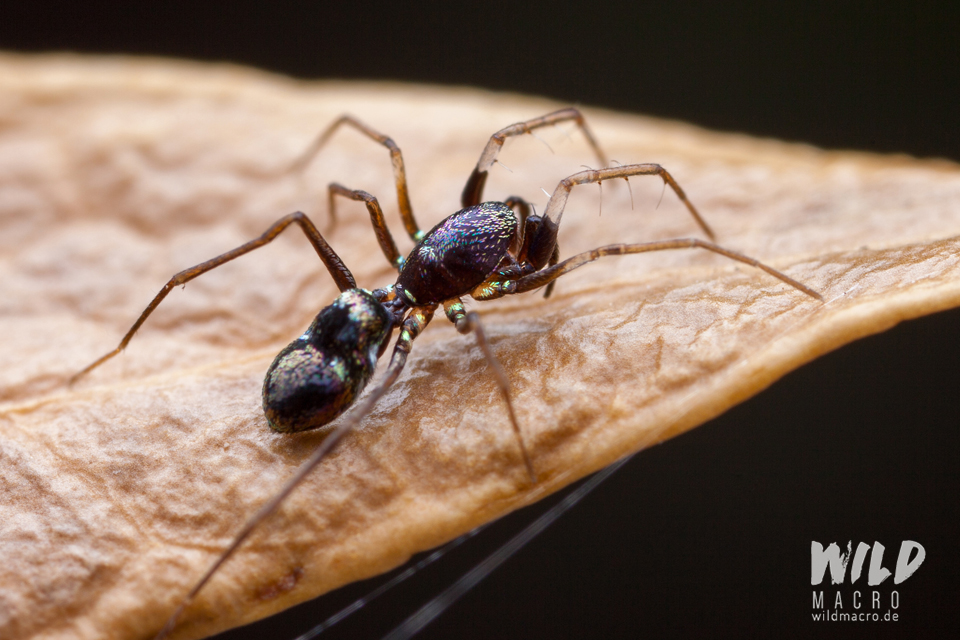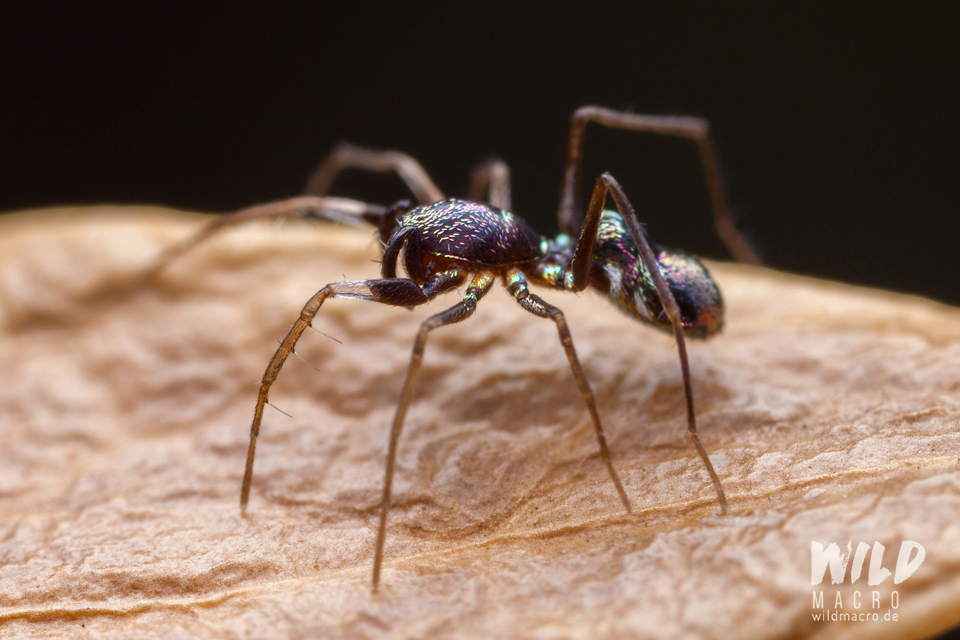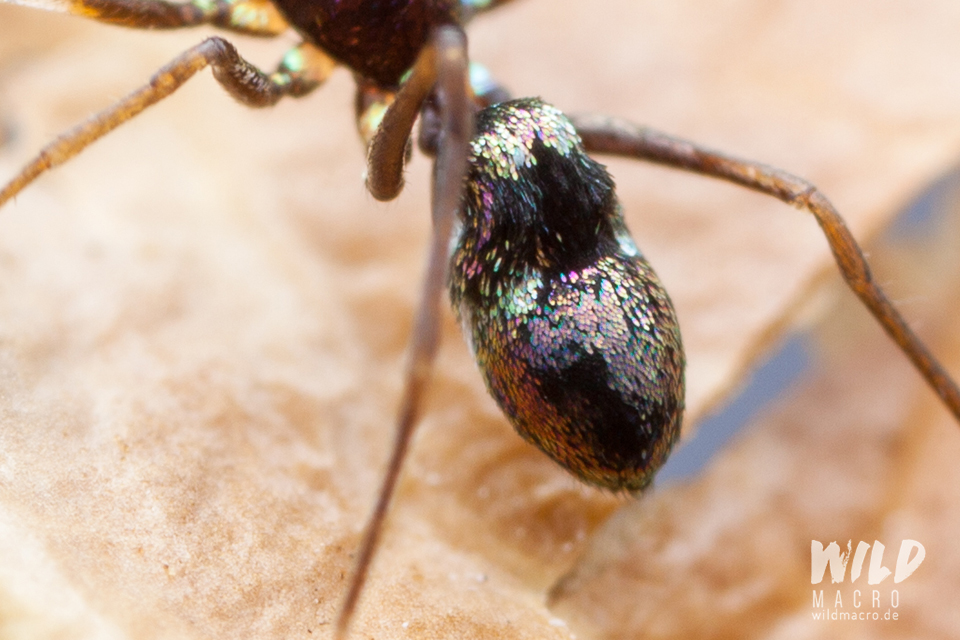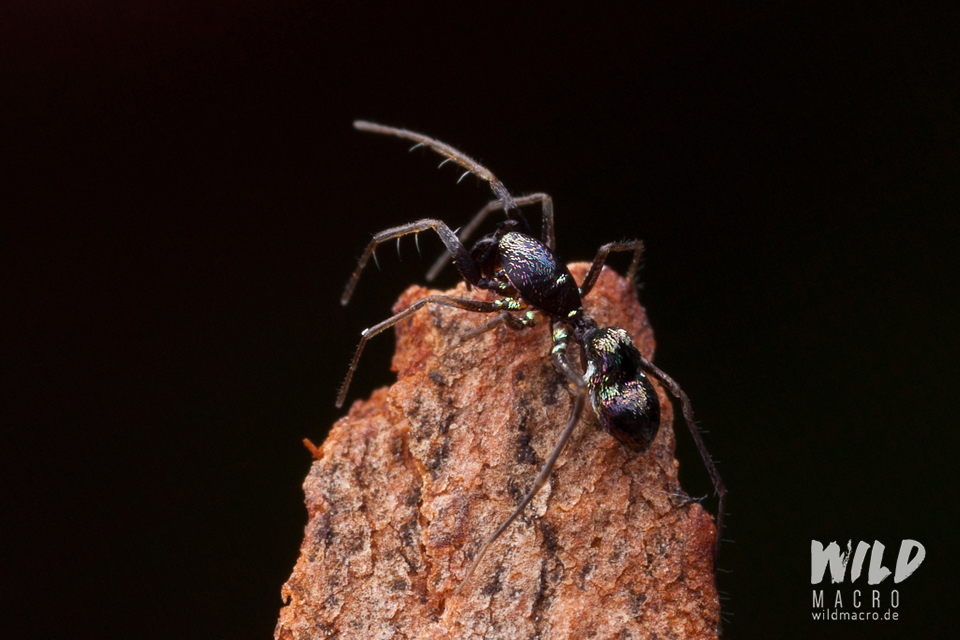 Ant mimicry in insects
Ant mimicry is a very effective mechanism and it is no wonder, that it can be found in various families of insects and spiders.
The following photos shows an insect that is pretending to be an ant, too:
It is Himacerus mirmicoides,the ant damsel bug.
In its nymph stage it strongly resembles an ant.